March 26, 2014 — Katrina Alcorn
with Louise Kuo Habakus and Alison MacNeil
To an increasing number of working mothers at every income level, "having it all" is accompanied by insomnia, depression, anxiety, medication, and overwhelming feelings of failure.
Women are twice as likely to have an anxiety disorder as men.
One in ten women takes anti-depressants, and that number skyrockets to one in four for women in their 40s and 50s.
Behind these numbers are more statistics:
Women make 77 cents on the dollar, compared to men.
15% of U.S. families have a chronically ill child with special needs.
The U.S. is the only developed country without national paid family and medical leave.
88% of health insurance plans do not cover maternity care.
In her staggering new book, Maxed Out, Katrina Alcorn tells a story that has women nodding in sympathy and recognition. It also has many others whispering a prayer of gratitude as they acknowledge the serendipity of personal scaffolding, in the form of family members, a much beloved nanny, or extraordinary workplace flexibility.
Katrina says that women often "compare their insides to other people's outsides." In other words, there's a big disconnect between the way things look and how they really are. This leads to a level of self-criticism–What's wrong with me? I should be able to handle this!–that eventually catches up with us.
There's a mythology of working motherhood portrayed in mainstream media and very few of us are immune. Working Mother magazine features an endless stream of success stories, and the photos of moms with their kids look so… happy. We read about the celebrities who eat organic, homeschool, or entertain, decorate, and do crafts like Martha. It may feel like a form of escapism to read these articles, but they leave their mark: this is the way things are supposed to be.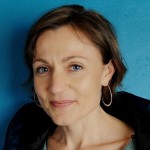 Katrina Alcorn is a writer and design consultant. She holds a master's degree in journalism and documentary filmmaking from UC Berkeley, and is a regular blogger at WorkingMomsBreak.com and for The Huffington Post. Katrina lives in Oakland, California, with her husband and three children.
Louise Kuo Habakus is Executive Director of Fearless Parent, lead host and producer of Fearless Parent Radio, and mom of two. She is a published author, runs the non-profit Center for Personal Rights, lectures widely, and has appeared in numerous media outlets, including ABC World News Tonight, Fox & Friends, and The New York Times. Louise was a Bain consultant and a C-level executive in the financial services industry. She holds two degrees from Stanford University. She is an advisory board member of GreenMedInfo.
Alison MacNeil, MSW, LICSW is a social worker and psychotherapist with more than 15 years of clinical experience. She holds degrees from Trinity College and the Smith College School for Social Work. Her professional background includes positions with a community mental health center in southeastern Massachusetts, Family Services of Greater Boston, and Beth Israel Deaconess Medical Center's Healthcare Associates. Alison is a published author and a co-founder of the Thinking Moms' Revolution.