Note: when Fearless Parent changed its URL in 2013, we were able to keep all the comments but inadvertently lost all the "likes" to this post. Read Part 1 here.
by Louise Kuo Habakus
My son was bullied at Oak Hill Academy
After reading about Rebecca Sedwick, a 12 year-old who killed herself after she was tormented by bullying, I was moved to tell two stories. Yesterday, I told you mine. Fast forward one generation. Today, I will tell you my son's.
Oak Hill Academy in Lincroft, New Jersey is a private elementary school founded in 1970. My children were there for a total of ten academic years. The bullying happened during the 2010-2011 school year when my son was in 4th grade. We spent seven months working with the teacher, who we came to see as a part of the problem, and then with the administration.
The school was unable to stop the bullying. We withdrew our son in April and his brother in June.
We subsequently enrolled our boys in The New School of Monmouth County, an alternative school that focuses on social-emotional intelligence, collaborative learning, and conflict resolution. They are thriving.
We have a happy ending. It's water under the bridge. So why do I mention the name of the school now?
I'm doing it for Rebecca, for my son, for me, and for the millions of children who are bullied.
Nothing healthy grows in the dark
When parents know what's happening with other children, they can ask tough questions and demand change.
After we left, I learned that there have been numerous families who quietly left Oak Hill because of bullying. A couple of moms later told me their children suffered lasting psychological trauma and needed therapy. I hear that the bullying there continues today.
Parents have a reasonable expectation that schools have the expertise to handle bullying and train their staff accordingly.
Oak Hill opened its doors over 40 years ago. And yet, their efforts basically consisted of different adults telling students in different settings (one on one, in small groups, and to the entire class) to 'stop it' and 'be nice.'
It didn't work and the bullying escalated.
The teacher turned a blind eye, then worse
When my son defended himself against one of the bullies in class, she gave him his very first demerit.
She said it was "too difficult" for him to get a piece of the gluten-free cake he had brought in, in the shape of one of the New Jersey counties, because it was mixed in with the other counties.
She made fun of his canteen, calling it the "killer water bottle," to the delight of his tormenters.
The school suggested that my son change his homeroom. I inquired why the bullies were not asked to move instead and was told: "Oh no, we can't do that."
The parents wouldn't engage
I reached out to the bullies' parents directly, leading with an open-ended: "Our children are having some difficulties with each other in school. Could we talk?"
Two parents didn't return my phone calls and a third said it was news to her that our children weren't getting along. When I asked the school to request a meeting with the parents, the response was: "We can't parent the parents."
Based on input from friends, I surmised that these children may have been struggling for reasons that had nothing to do with my son — one with the dissolution of his parents' marriage and two with poor grades. The last seemed to be emulating her mother, legendary on campus for her loud, caustic personality.
The last straw
One of the bullies tripped my son and kept his foot on my son's neck. The aide who was present had been made aware of the bullying and was supposed to help protect my son. Rather than support my child, the aide urged my son to "laugh it off." And then the school had the nerve to call me to express their concern that my son had been disrespectful to the aide.
We were done.
Patrice Murray, the Director of Personnel, asked us to reconsider. She said that she was going to teach the boy to apologize.
I know she meant well but it was seven months too late. As far as I was concerned, Oak Hill Academy had lost the right to educate my son.
We were not a difficult family who failed to fit in. Our boys excelled academically, were adored by all their teachers (except this one), and made good friends (who remain so today). I was a Class Mom and co-led major fundraising events. For Oak Hill's Middle States Association (MSA) evaluation in 2007, the headmaster and founder, Joseph Pacelli, selected both me and my son to speak with the MSA Visiting Team.
A broken promise
During a private meeting after our departure, Pacelli admitted that the school should have done better by our son. He sent him a kind note and then committed to implementing a rigorous, state of the art anti-bullying policy at the start of the 2011-2012 school year. He said that he would be consulting with a nationally known bullying expert, using my detailed letter to inform the effort, and would keep me posted. It was too late for us, but I was satisfied by his response.
I never heard from Pacelli again. When it became clear that no such bullying program was being implemented, I was not happy.
We had been through hell. A boy put his foot on my son's neck. Pacelli thought highly enough of me to request that I vouch for the school during their all-important accreditation review. And he wasn't going to follow through with the anti-bullying program he promised us?
This was not OK.
On behalf of my son, we wanted a tangible, meaningful acknowledgement of Oak Hill's abject failure. Their inability to resolve the bullying harmed my son. If the school wasn't going to take steps to protect other children, then I felt they should make amends in another way. I asked for a monetary settlement.
The school referred the matter to its insurer. The local paper declined to cover the story because it didn't want to offend an advertiser. And after some soul searching, I made the decision to move towards our future and not dwell in the past.
Until Rebecca Sedwick's story pierced my heart.
Like me, my son never looked back. He's happy. But I'm quite certain that he, too, will never forget the names of his bullies or the school that wasn't able to help him feel safe.
What the experts say
Bullying is deeply upsetting and it can be difficult for parents to know what to do. I found these two lists helpful.
WHAT SCHOOLS CAN DO
Experts agree that schools have serious responsibilities when it comes to bullying. They should:
1. Take bullying seriously, investigate the situation, and let the parents know what steps the school is taking.
2. Have written policies and rules, and enforce them.
3. Speak to the bully and his parents, and inform them of the consequences if the bullying does not stop.
4. Increase adult supervision in areas where the bullying is likely to take place.
5. Inform personnel about those being victimized so they can monitor and provide support.
6. Communicate often with the victim's parents about how the situation is being handled.
WHAT PARENTS CAN DO
It is devastating for parents when a child is bullied. It can be difficult to know what to do. There is a temptation to wait, in the hopes that the whole thing will blow over. Don't. It is important to act early and decisively. This Psychology Today article advises:
1. Start talking. A lot. Reach out to as many people—teachers, administrators, parents, neighbors, community leaders, online blogging communities, and even the media, if necessary—to make sure the bullying stops.
2. Document everything. Record as much detail as possible: incidents, dates, people involved, conversations, decisions, and plans of action, to keep people organized, informed, and goal-oriented.
3. Keep at it. The determination and strength that parents show make a big difference to the victim.
I've heard some who feel that children should gut it out and learn to fight back. I don't agree. If children don't feel safe, they can't learn. And the stakes are too high. By asking them to stay, we send the message that it is acceptable to remain in an abusive environment that is failing to keep them safe.
***
Bullying is especially frightening because it is unpredictable. I wanted to give my son some measure of control. So I let him decide. I told him he could: 1) persevere and finish out the year, 2) change homerooms and see how it goes, or 3) be homeschooled and find a new school. He chose #3.
With that decision, my inner 7 year-old high-fived my 9 year-old son. And a tremendous healing took place, for us both.
Bullying: I'm Naming Names — Part 1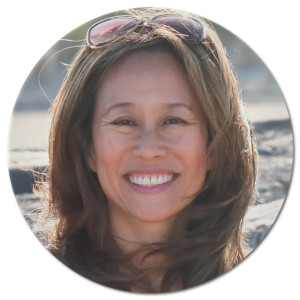 Louise Kuo Habakus is Executive Director of Fearless Parent. She is lead host and producer of Fearless Parent Radio. When it comes to bullying, Louise hopes you will teach your children about the critical role of the bystander and urge them to speak out. The risk of generating an eye-roll is worth the possibility that you might help save a life.
Resources
There are thousands of resources about bullying, including websites, books, articles, and blogs. Here are just a few, and I invite you to add your favorites:
National Crime Prevention Council