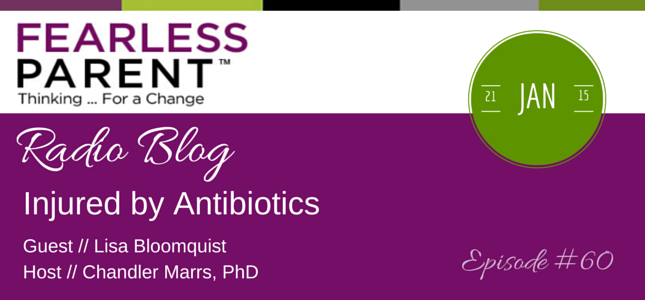 #60 – Injured by Antibiotics ** January 21, 2015
Guest // Lisa Bloomquist ** Host // Chandler Marrs, PhD
Listen to Fearless Parent Radio online on PRN.fm at 7pm ET or on your phone by dialing (401) 347-0456. Once the show has aired, listen via our Archived Shows page, iTunes, or Podbean.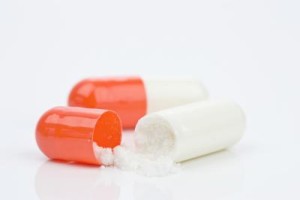 When we think about adverse effects of antibiotics, we think about microbiomes…
–  environmental microbiomes in the rise of antibiotic resistance, and
– human microbiomes and ecosystem resilience following gross perturbations, including antibiotics.
However, antibiotics can injure in other ways.
We heard a lot about Cipro during the anthrax scares following 9/11. Cipro is part of the fluoroquinolone family of antibiotics: Cipro/ciprofloxacin, Levaquin/levofloxacin, Avelox/moxifloxacin and a few others. Unlike most antibiotics, fluoroquinolones can cause a multi-symptom, often chronic disease called Fluoroquinolone Toxicity Syndrome (FTS).
FTS includes damage to connective tissue (tendons, ligaments, cartilage, fascia, etc.) throughout the body, damage to the nervous systems (central, peripheral and autonomic), and more. The damage done by fluoroquinolone antibiotics can destroy a person's quality of life or even kill them. There is a time and a place for drugs with dangerous side effects. If you find yourself in a septic shock induced coma, fluoroquinolones may save your life.
Unfortunately, fluoroquinolones are not being reserved for life or death situations. They are prescribed for urinary tract infections, suspected prostate infections, upper respiratory infections, and as a prophylactic for travelers' diarrhea, ear infections, pink eye, and more. Thousands of people have suffered needlessly from the devastating effects of fluoroquinolone antibiotics, when another safer antibiotic could have, and should have, been used.
Lisa Bloomquist will discuss her journey through FTS and share what she has learned, including:
fluoroquinolones 101 — the basics
warning signs of FTS
aspects of Fluoroquinolone Toxicity that make it tricky to recognize
treatments that have helped Fluoroquinolone Toxicity patients, and
urgent pointers that parents must know when treating their child's bacterial infections.

Lisa Bloomquist is a patient advocate who was injured by Cipro in 2011. She runs Floxie Hope, a fluoroquinolone toxicity advocacy site, and manages The Fluoroquinolone Wall of Pain. Lisa is a guest blogger for Hormones Matter and Collective Evolution, and hosts The Floxie Hope Podcast. Lisa has vowed to continue to screaming about the dangers of fluoroquinolone antibiotics until those in the medical professions start paying attention to their Hippocratic Oath, until proper informed consent is established for administration of these drugs, and until physicians stop giving them to children. Lisa is a Colorado native who enjoys the mountains, Pilates, and her cat. She has a BA in Economics from Colorado State University and a Masters in Public Administration from University of Colorado, Denver.
Chandler Marrs, PhD, is proud mom of 20 year-old twins, a research scientist, an entrepreneur, a lifelong jock, and a fierce women's health advocate. She has spent the last 15 years in women's health research, first in perinatal mental health and hormones, and more recently in medication-induced mitochondrial dysfunction. Dissatisfied with the state of health and hormone research, she created Hormones MatterTM, an online journal featuring research reviews, commentary, and patient stories across a range of health topics. Concerned with the lack of medication testing in women and children, she conducts online, direct-to-patient, real world medication safety and efficacy studies through her company, Lucine Health Sciences. Her most recent endeavor is the online social health site, Heal with FriendsTM, focused on finding healing solutions for complex and chronic diseases and medication and vaccine reactions.