Our Medical Director Kelly Brogan's new book, A Mind of Your Own, launches today. It's brilliant and by all rights should be sitting atop the New York Times bestseller list this week.
I'm stewing, however, because it's been blacklisted by all major media outlets. We can still get this done on our own power, of course, and we will. I'll explain how.
Why this book matters
But first, I want to tell you why this is so important to me:
Psychiatric medication, an $80+ billion per year business, diminishes the quality of life of, and inflicts untold suffering upon, tens of millions of Americans (and their loved ones). Mostly women and increasingly children.
Antidepressant use is harming the social fabric of our country. It has been linked to virtually every single mass shooting in recent history.
Depression is eminently manageable and often reversible without drugs.
This totally uncensored book, and the courageous, activist intention behind it, represent a watershed opportunity for the large and growing numbers of people like you and me who care deeply about the direction our country is headed when it comes to health and wellness. When this book breaks through to mainstream audiences:
It will epitomize a true democratization of information and the triumph of social over mainstream media.
It will validate and reward the principled actions of a few passionate and determined people who took a stand because it was the right thing to do.
It will inspire others to do the same. The ripple effects will extend far beyond what we can imagine.
It can change beliefs. It can change policy. It can change standard of care. It can help heal our world.
Let's get this done
Grassroots activism feels like home to me. When an issue speaks my heart, I'm game to mix it up and make some noise. If Kelly is lighting a torch, I'm all in. She is one of the bravest people I know… she lives her truth. When things get dicey, I don't blame people if they need to run for cover. But that's not my girl, Kelly. She'll double down and invite you in. In her own words:
We're asking you to do three things over the next 7 days (by Monday, March 21):
Buy the book at your local bookstore. If it's not there, ask them to stock it. If you can't get to a store this week then buy it HERE.
Take a selfie with the book and post it to social media with the hashtag #AMindofYourOwn. Link to your location. Tag @habakus and @fearlessparent1, too!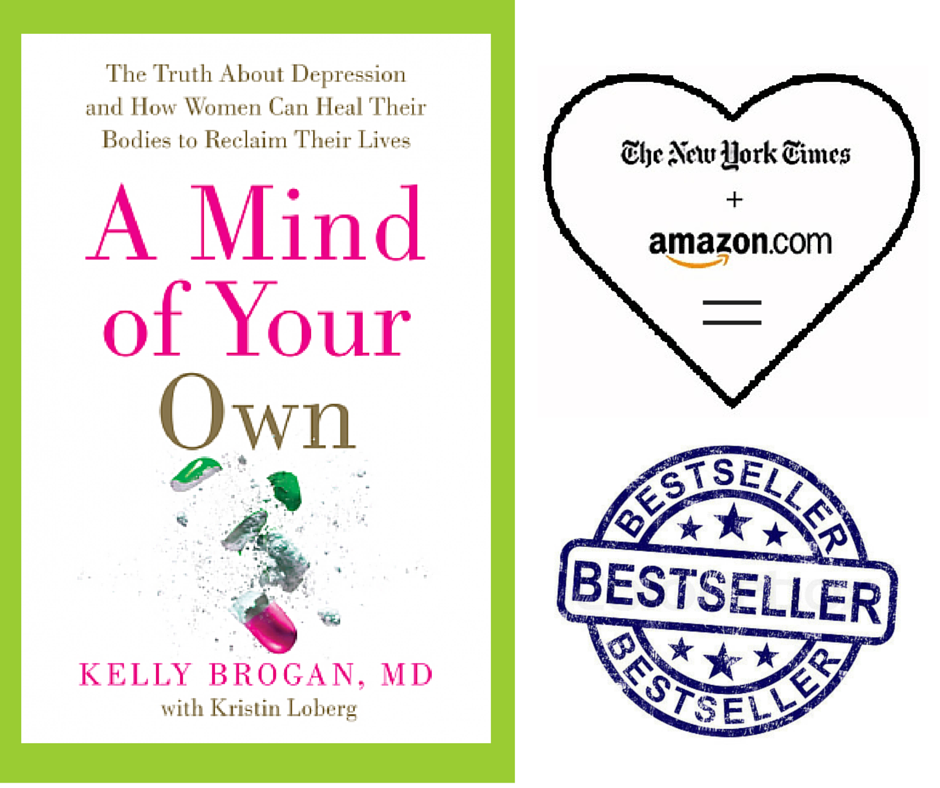 It's also very personal
Yeah, I'm a little riled up. I have a mind of my own!! I am no patsy. I throw socks at the TV when the Pharma commercials come on. I buy organic whenever possible, and otherwise look for the No GMO label on packaged foods. My toothpaste is fluoride-free. My meat isn't just grass-fed; it's grass finished. My water is structured. And I know that "natural flavorings" is code for MSG. I'm a smart cookie 😉
That's bravado talking. The truth is that I'm humbled all the time. I wonder about the things I don't know. I think about the ways that I'm manipulated and influenced. I imagine that I'm impervious but commercial programming gets through nonetheless. I'll buy something new because I'm seduced by the promise… I want to save time, save the world, surprise the kids, enjoy a bit of novelty… and then I'll realize that I've been scammed. It happens more often than I'd like to admit.
It makes me think about a time when I wasn't a discerning consumer… especially with health care.
A little something to take the edge off?
I'm going to share something with you that used to feel like a secret. Here goes. I've been given multiple prescriptions for antidepressants. We're talking at least a dozen times over the years. Wellbutrin. Prozac. Lexapro. Other names that I no longer remember. I remember responding to the doctors' questions, stammering or even tearing up when asked how I was doing with, you name it — a traumatic break-up followed by a cross-country relo; an unprecedented job promotion coinciding with vituperative peer animus; a new baby with jaundice who couldn't latch properly along with total sleep deprivation; my new husband's near miss on 9/11; my boys' vaccine injury — you know, life.
It took less than 60 seconds for the blue pad to be pulled out and a script to be produced, along with a wistful smile and a promise: "A little something to take the edge off."
That's what got me. It always sounded so damn harmless, like a fun little package of Skittles. The edge off what exactly? Yes, I sometimes felt on edge… or on the edge. But were we talking about a temporary glitch or did I actually have a mental health problem? That was never made clear. I filled the prescription, just once, and held the bottle in my hand. I might've succumbed with just a tiny bit of pressure but blessedly no one pushed me. Swallowing that first pill felt significant to me in some vague way that I couldn't articulate and didn't have the energy to research. It is nothing short of a miracle that I never started taking them. Being smart had nothing to do with it.
I dodged that bullet
I don't feel remotely smug about it. There are so many bullets I haven't dodged; it's a wonder that I'm still standing.
I remember eating green beans and drinking Tab, both straight out of the can with my best friend from Andover. I graduated to a big corporate job and, too busy or tired to cook most nights, I ate potato chips with Lean Cuisine for dinner, along with swigs of pasteurized skim milk. I took antibiotics and antifungals to head off all manner of infections. Before I started flying to Japan every three weeks, I proactively asked the corporate physician for a sleeping pill to "manage" jet lag. Every fall, I dutifully rolled up my sleeve for an annual flu shot, and hounded my loved ones to do the same.
When I developed the worst case of full body chronic hives and angioedema (think: Marge Simpson) you ever saw, no one, least of all me, ever made any connections between the food I ate; the drugs and vaccines I took; the personal care products I liberally slathered on; the stress that surrounded me; and the discomfort of me in my own skin.
When my boys were diagnosed with vaccine injury in 2004, I started researching and stopped sleeping… for about 7 years. And then I read about a young woman whose story shook me to my core (and got me sleeping again). Iris Chang was a phenomenon — an international bestselling author at 29; a dedicated historian who researched Japanese war atrocities; a prolific workaholic who routinely burned the midnight oil; a young mom who connected her son's autism to vaccines; a frazzled woman who was prescribed psychiatric meds, the side effects of which led her to commit suicide… in 2004. I had long talks with her mother, Ying-Ying Chang, a Harvard biochemist and professor of microbiology. Once Iris started the drugs, her personality changed. Ying-Ying blames the meds for her daughter's death.
One in 5 adults suffers from a mental illness each year, 49% report having had a 'major stressful event' in the last year, and 1 in 4 women starts her day with antidepressants. Americans represent 5% of the world's population and consume over 50% of all pharmaceutical drugs.
No, I'm not kidding. The consequences of this egregious over-medication is nothing short of a national catastrophe.
Why I love A Mind of Your Own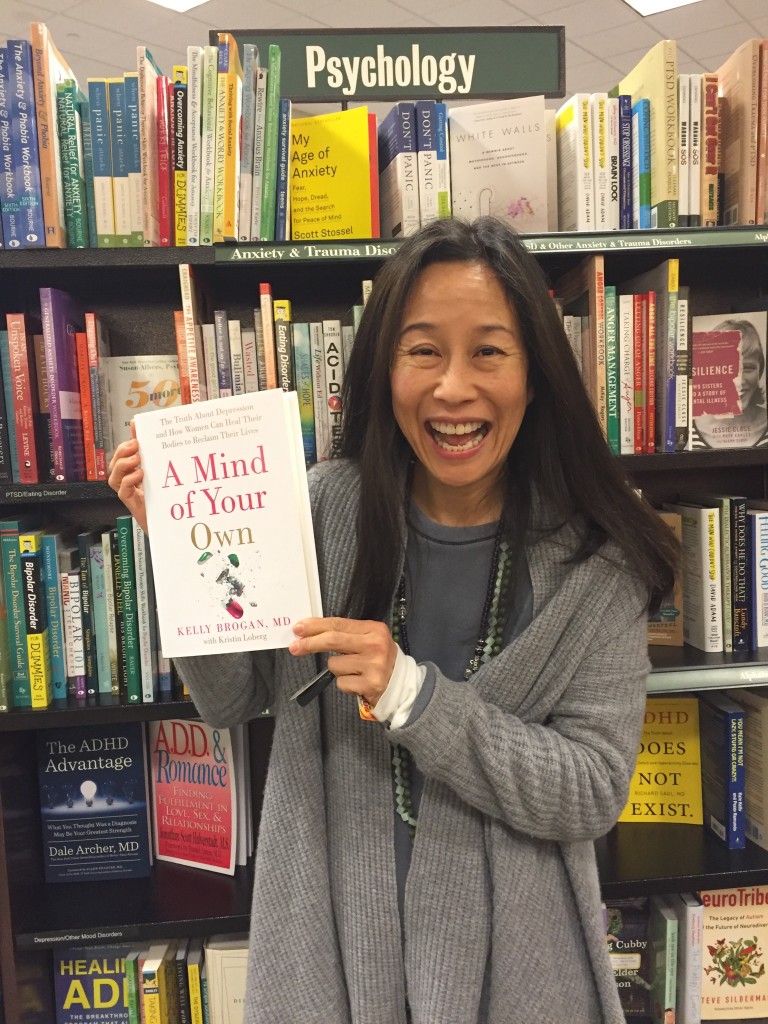 #1: This is what docs should've put into my hot little hands first
… instead of those stupid scripts. Because it's criminal that a serious prescription medication should be a first line treatment for a case of the blues based on a 60 second intake.
My doctors didn't have any other tricks up their sleeves. They had no clue about the role of nutrition, toxins, drugs, and dis-ease. They also neglected to disclose that they have very little experience tapering patients off meds. Dr. Kelly Brogan understands all of this. Anyone taking, thinking about taking, or loving someone taking antidepressants needs to read this book.
#2: This is a landmark book
There's no political correctness that devolves into pablum in this book. There's no pandering. There's no fence straddling. And there are no conspicuous omissions and odd surprises designed to ingratiate herself to new audiences.
If you've read Kelly's blogs, listened to her podcasts, and watched her presentations, then you know what you're getting. Straight talking Kelly Brogan at her best. And yes, she discusses vaccines. So grab the first edition and get it signed, too. This one's a keeper. With your help, universal acknowledgement of this fact will happen sooner. And boy do we need sooner.
#3: It's Truth, wrapped with a bow
I agree with every single word in this book. And it also happens to be so professionally written and beautifully presented that you will be gratified to place it in a non-believer's hands.
You won't need to borrow legitimacy from mainstream sources that you love to hate in order to make your point. This book is proudly published by HarperCollins, which paid seven figures for the privilege, and it is represented by an agent with nearly two dozen consecutive New York Times bestselling books under her belt. Nothing lightweight about it.
#4: It can send a strong message to those mainstream outlets
So yes, even though the New York Times reported on the sharply rising suicide rate despite the antidepressant glut, and even though CNN revealed that antidepressant use during pregnancy may increase autism risk, and even though TIME Magazine said that just one dose of antidepressant changes the brain and… (I could go on but I won't) — it looks like none of them will cover this book.
This is a book whose blockbuster success that will let these outlets know that their blacklisting is shamefully hypocritical and only serves to make them even less relevant.
#5: GreenMedInfo brings it home
If you need more reasons why you should buy A Mind of Your Own, read Sayer Ji's latest: Why is the media so afraid of this woman's work?
***
You know how I like to say that every purchase is an act of advocacy? Buy this book. And if you send it to me with a prepaid Priority Mail label, I'll get it signed for you and send it back.
Love,
Louise
Update: April 3, 2016
We'd like to share some amazing news:
#1: A Mind of Your Own sold out on Amazon within 24 hours of its March 15 launch.
#2: It reached a top 20 ranking on Amazon (out of 8+ million titles).
#3: It debuted on the New York Times and USA Today bestseller lists.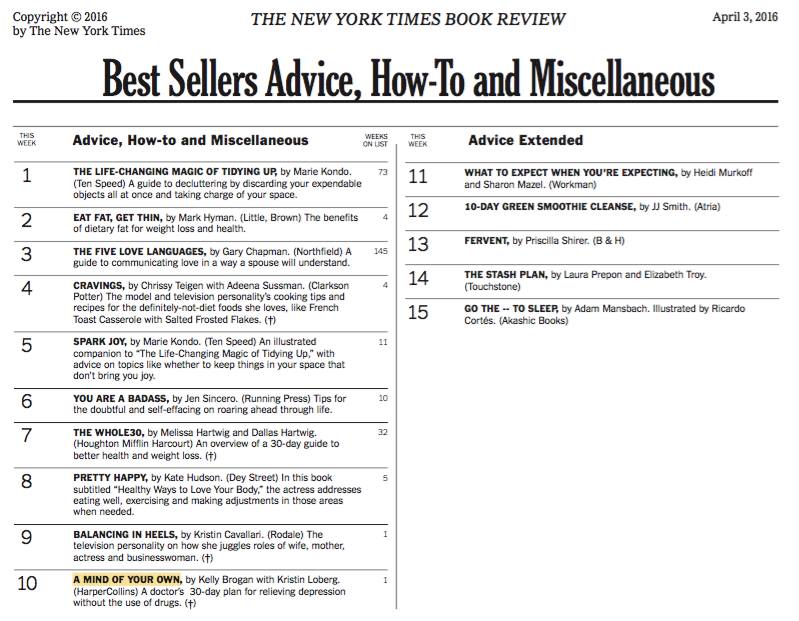 We express our deepest appreciation to all of you for your support!!!
Louise Kuo Habakus is the founding director of Fearless Parent™, lead host and producer of Fearless Parent Radio™, and mom of two. She is a published author and runs the non-profits Center for Personal Rights and Health Freedom Action. Louise was a Bain consultant and a C-level executive in the financial services industry. She holds two degrees from Stanford University. She is an advisory board member of GreenMedInfo and The Documenting Hope Project.