March 5, 2014 — Tanya Selveratnam
with Louise Kuo Habakus and Alison MacNeil
Hello, Fearless Parent Listeners.
I am thrilled to be invited to appear on the show.
I was inspired to write The Big Lie after my third miscarriage at the age of 40 in fall 2011. I wrote the book that I wished I could have read then. I wanted to share what I had learned through my attempts to become a mother and to explore how delaying motherhood intersects with science, feminism, evolution, popular culture, female friendships, global economics, and more.
In the book, I explore many Big Lies. The Big Lie is that we can do things on our own timetables. The Big Lie is that we can manipulate evolution. The Big Lie is that we don't need feminism anymore.
My ultimate goal for the book is that it be a conversation-starter and policy-changer. I also want to strip away the guilt women feel around issues of abortion, miscarriage, and infertility. By offering my personal story to connect to along with the research, interviews, and ideas for the future, I hope that I help others.
There are many statistics and studies in The Big Lie. Below are some of the numbers, which I thought would be interesting for the listeners to consider:
In 1970, 1 in 100 births were to women thirty-five and over. In 2006, it was one in twelve.
The number of women ages forty to forty-four who remain childless has doubled in a generation: in 1976, it was one in ten; by 2006, it was one in five.
At the age of fifteen, a woman has a 40 to 50 percent chance of conceiving per cycle, but after age thirty-five, she has a 15 to 20 percent chance; and by the time she's forty-five, she has a 3 to 5 percent chance.
Approximately one out of three women will have an abortion before the age of forty-five.
As much as 25 percent of all clinically recognized pregnancies end in miscarriage.
Miscarriage rates soar as women age—from about 15 percent in women aged twenty-five to thirty, to about 40 percent in women over forty.
The majority of IVF cycles fail (as high as 77 percent of cycles performed worldwide).
According to a 2010 Self magazine survey, 61 percent of infertility patients hid their struggles, even from friends and family.
Only fifteen states in the United States have mandated insurance coverage for some level of infertility treatment.
I look forward to hearing from all of you. Thank you!
All best,
Tanya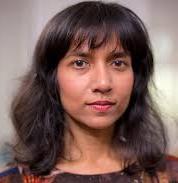 Tanya Selvaratnam is a writer, an actor, a producer, and an activist. She has produced work by Chiara Clemente, Catherine Gund, Mickalene Thomas, and Carrie Mae Weems; and has performed with The Wooster Group and The Builders Association. She is also the Communications & Special Projects Officer for the Rubell Family Collection. As an activist, Tanya has worked with the Ms. Foundation for Women, the Third Wave Foundation, the NGO Forum on Women, and the World Health Organization. She received her undergraduate and graduate degrees in Chinese language and history from Harvard University.
Louise Kuo Habakus is Executive Director of Fearless Parent, lead host and producer of Fearless Parent Radio, and mom of two. She is a published author, runs the non-profit Center for Personal Rights, lectures widely, and has appeared in numerous media outlets, including ABC World News Tonight, Fox & Friends, and The New York Times. Louise was a Bain consultant and a C-level executive in the financial services industry. She holds two degrees from Stanford University. She is an advisory board member of GreenMedInfo.
Alison MacNeil, MSW, LICSW is a social worker and psychotherapist with more than 15 years of clinical experience. She holds degrees from Trinity College and the Smith College School for Social Work. Her professional background includes positions with a community mental health center in southeastern Massachusetts, Family Services of Greater Boston, and Beth Israel Deaconess Medical Center's Healthcare Associates. Alison is a published author and a co-founder of the Thinking Moms' Revolution.