March 19, 2014 — Kristen Race, PhD
with Louise Kuo Habakus and Alison MacNeil

Download Kristen's Handout HERE
Children spend 7 hours 38 minutes per day using entertainment media. And due to media multitasking (i.e., surfing while texting), they actually pack 10 hours 45 minutes of media content into those 7+ hours.
Do you wonder about your kid's brain on Nintendo?
Would it surprise you to know that children are overstimulating the part of the brain responsible for activating the "fight, flight or freeze" survival responses? And we are under-stimulating the activities that simulate the part of the brain responsible for empathy, relationship building, and executive function (i.e., planning, decision making, judgment).
We, and our kids, are living "life or death lives." There's a fire alarm inside our brains that's meant to signal when we're confronting situations that are unfamiliar, emotionally charged, dangerous, exciting, or painful.
This alarm is going off all the time, because our brains have not yet evolved to match the challenges of our modern world.
We're living the effects of stress:
91% of children say their parents are stressed
2/3 of parents are extremely concerned about their children's well-being
1 in 5 school-age kids has a diagnosable mental disorder
1/3 of high school students report feeling sad or hopeless
Using simple layperson's language, Mindful Parenting author Kristen Race, PhD offers suggestions that are grounded in science of the brain. She integrates cognitive neuroscience, positive psychology, and child development. It sounds fancy but she assures us that it's a matter of making small changes that can make a big difference. She teaches parents the tools of resiliency, brain coolers, and the benefits of nurturing a mindfulness practice that can change how our brain works.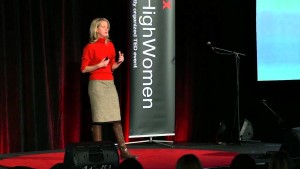 Kristen Race, PhD is a mom of two, an expert in child, family, and school psychology and the founder of Mindful Life. She is the former director of counseling services for Colorado Academy and taught at New York's prestigious Buckley School. She serves on the executive committee for her community's Early Childhood Council and is a member of the Rocky Mountain Youth Services Coalition, a network of youth advocates and service providers committed to enhancing the quality of life for youth and young adults in Steamboat Springs. Kristen received her Doctorate and Master's degrees from the University of Denver, and her Bachelor's degree from the University of Colorado.
Louise Kuo Habakus is Executive Director of Fearless Parent, lead host and producer of Fearless Parent Radio, and mom of two. She is a published author, runs the non-profit Center for Personal Rights, lectures widely, and has appeared in numerous media outlets, including ABC World News Tonight, Fox & Friends, and The New York Times. Louise was a Bain consultant and a C-level executive in the financial services industry. She holds two degrees from Stanford University. She is an advisory board member of GreenMedInfo.
Alison MacNeil, MSW, LICSW is a social worker and psychotherapist with more than 15 years of clinical experience. She holds degrees from Trinity College and the Smith College School for Social Work. Her professional background includes positions with a community mental health center in southeastern Massachusetts, Family Services of Greater Boston, and Beth Israel Deaconess Medical Center's Healthcare Associates. Alison is a published author and a co-founder of the Thinking Moms' Revolution.