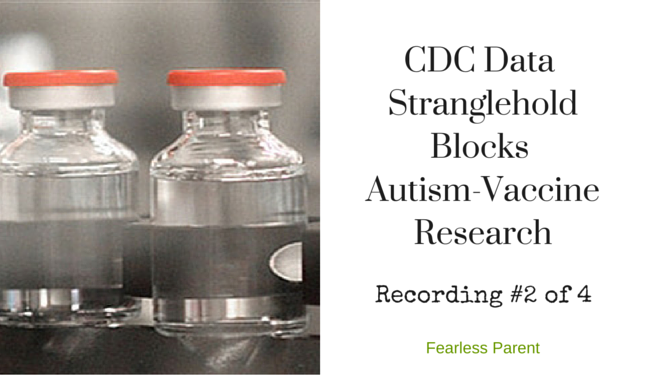 Like and follow us on Facebook, Twitter, and Pinterest. Sign up here.
© 2014-2016, Center for Personal Rights and Brian Hooker, PhD
by Louise Kuo Habakus
Recording #2
Scroll down for all 4 recordings
Key quotes and highlights
This recording is powerful. Transcript to follow.
I'M IN A "DREAM SPOT" TO SHARE INFORMATION
"I'm sitting in a dream spot to give you feedback on how that information is playing out."
"I want to be a resource. I want to be valuable to you. I want you to have someone in the system who can give you feedback as these things go through. And as long as you're willing to let me sit where I am, I'll sit as long as I can tolerate it and we'll just keep going."
CDC IS NOT DOING ITS JOB
"I shoulder that the CDC has put the research 10 years behind, because the CDC has not been transparent we've missed 10 years of research, because the CDC is so paralyzed right now "
"Anything related to autism they are not doing anything right now because they are afraid to look for things that might be associated."
CDC representatives were invited to testify at the May 2014 Congressional hearing but declined.
"CDC is paralyzed, the whole system is paralyzed right now, the whole branch is paralyzed and it's becoming more paralyzed, and there is less and less being done as the place comes to a grinding halt."
CDC HAS DATA "MOTHER LODE OF MOTHER LODES"
The CDC has the Study to Explore Early Development (SEED), which Tom Insel (former head of the National Institute of Mental Health) doesn't have. According to the CDC:
SEED is a multi-year study funded by CDC. It is currently the largest study in the United States to help identify factors that may put children at risk for autism spectrum disorder (ASD) and other developmental disabilities. Understanding the risk factors that make a person more likely to develop an ASD will help us learn more about the causes.
Thompson says "This is the gold mine, the mother lode of mother lodes because it has confirmed cases of autism."
This study would be the "leak in the dam."
NOT ONE STUDY IS LOOKING AT VACCINES
Thompson discusses the SEED information that is under the control of the CDC. There are 800 children who have been given ADI-R and ADOS ("gold standard in diagnostic evaluations for autism"), and have population controls and disability controls of similar size. Thompson said he is cleaning it up. The study is a mess because the lead, Diana E. Schendel, left the CDC to live in Denmark "with her boyfriend" former CDC scientist, fugitive Poul Thorsen who is alleged to have embezzled millions of dollars from the CDC originally intended for autism research.
SEED contains data from 1,200 children with autism. This includes prenatal records (i.e., infections, vaccination, RhoGAM); maternal vaccination records; children's entire medical history including vaccination records; and biological samples from all children. "It's all there."
Six different sites are contributing data, 50 proposals are in, and not one is looking at vaccines.
Per Thompson: "No one has analyzed it yet and they [CDC] don't really want people to know the data exists."
TOLD SUPERIORS AUTISM-VACCINE STUDIES MUST BE DONE
Thompson says he told his superiors that studies must be done because they have the vaccine records, After seeing the Posey hearing he says he said to his superiors and colleagues.
"What are you going to say when you have 1,200 autism cases and a bunch of controls, and you never looked at vaccines and you have all of their vaccine records?" 
Thompson said, "It's like Disneyland… here's what I said to them… "This study needs to be done… ut should be contracted out to some independent organization… [laughing] we're insane to be sitting on this data and not… have an independent group, independent of the CDC, completely.. [for the CDC to] not even touch it, not even have a coauthor on it… I want to give you the name of the study so you can start telling people… to ask questions about this study because this data is sitting, ready to go. No one has analyzed it yet… they don't really want people to know that this data exists, again…"
"THIMEROSAL CAUSES AUTISM-LIKE FEATURES"
"I do think thimerosal causes tics, I'm not sure about the rest… tics are 4 times more prevalent in autism [than other kids]. There is biologic plausibility right now, I really do believe there is, to say that thimerosal causes autism-like features, and that's the way I would say it."
(See commentary for Recording #4 for more information)
HOW DOES SOMETHING GET ON THE VACCINE INJURY TABLE?
Thompson notes that tics have not been added to the vaccine injury compensation table nor have they been listed as a vaccine adverse event.
Thompson asks "why not"? He wonders how does something get onto the table?
Recordings
#1 of 4 — May 8, 2014
#2 of 4 — May 24, 2014
#3 of 4 — June 12, 2014
#4 of 4 — July 28, 2014

Louise Kuo Habakus is the founding director of Fearless Parent™, lead host and producer of Fearless Parent Radio™, and mom of two. She is a published author and runs the non-profits Center for Personal Rights and Health Freedom Action. Louise was a Bain consultant and a C-level executive in the financial services industry. She holds two degrees from Stanford University. She is an advisory board member of GreenMedInfo and The Documenting Hope Project.