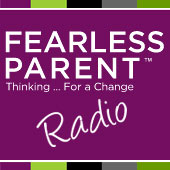 Join Louise Kuo Habakus and co-hosts for a provocative weekly radio show that's on the pulse of new parenting.
"This show is really needed!"
"It's like NPR, operated by parents."

"Finally!"
Something very exciting is happening. Parents are connecting around a simple but powerful message:
We must be fearless.

After decades of being told by the experts all that we must do so we don't ruin our kids, parents are taking charge. Refusing to be manipulated by fear, we're reading the science, sharing knowledge, and building powerful networked communities. Parents are driving positive societal change.
It's a new kind of parenting, and it deserves a big show. There are extraordinary discussions taking place on social media and in our social circles, with collaborative doctors, scientists, educators, and political leaders. It is time to hold a microphone up to these conversations so they can be shared with a much larger audience. On Fearless Parent Radio™, we're highlighting the stories that tell about parenting today.
Louise Kuo Habakus is the lead host and producer of Fearless Parent Radio™. She is joined by an exceptionally talented group of co-hosts who are cutting edge clinicians, advocates, and thought leaders, many of whom also lead as parents. They report with warmth and wisdom. They are clear that it is time for parents to go beyond what we've been told, and to:
— Question authority.
— Leave the herd.
— Make informed decisions.
— Trust your instincts.
Focusing on the things that have currency in the world can interfere with our ability to parent effectively. Big degrees and huge paychecks don't translate into successful families and healthy children. When we fear the loss of status, we end up impressing the wrong people. We won't find the heart and soul of parenting inside the public or private machine. We are enough.
Tune into Fearless Parent Radio™, Wednesdays on PRN.fm starting November 13, 2013, or download the show on iTunes.