Ever wish Google Translate could convert Science into Plain English? Wouldn't it be great if your best friend was a scientist and you could ask her whatever you wanted? We're bringing you not one but two talented MIT alums who are fluent in science and health and not on the payroll of Big Food or Big Pharma. They'll discuss:
What does the latest research really say about why kids are so sick today, with autism, allergies, food sensitivities, ADHD, and sleep problems?
How are these disorders connected?
Which prevalent toxic chemicals cause the most concern?
When it comes to toxins in our food, what should we eat and avoid? Does eating organic make a difference?
How about toxins in vaccines? How do we sort out the scoop from the spin?
Where are the biggest areas of disconnect between the scientific literature and what we read in the mainstream press about food and vaccines?
Does she really believe that, at today's growth rate, 1 in 2 children will have autism by 2025?
Dr. Stephanie Seneff gets down to brass tacks and points the finger squarely at the toxic chemicals in food and vaccines. Together, these poisons work synergistically to erode our health. Two of the most significant poisons are glyphosate (in the herbicide Roundup) and aluminum. These substances have become so common in our environment that we mistakenly dismiss them as harmless ...Read More >>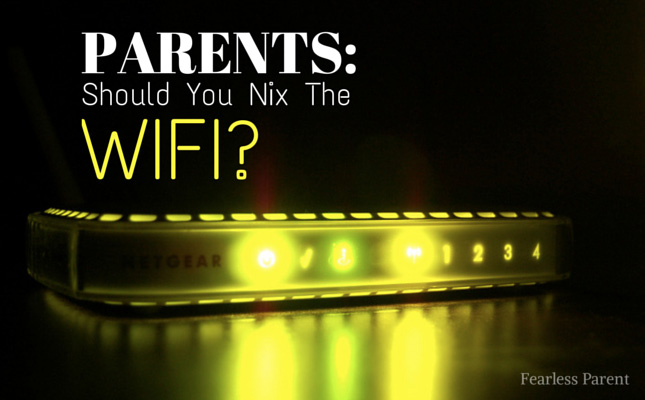 Is anyone in your house dealing with health issues that just won't go away no matter what foods you eat, which supplements you take, or how many practitioners and therapies you run through?
Is your child anxious, hyperactive, erratic, ticking, angry, foggy, forgetful, sleepless, nauseous, sluggish, dizzy, itchy, congested, or in pain?
Based on the extensive evidence base and reinforced by the volume of anecdotal stories I'm hearing, it's worth trying this:
Shut off your WiFi.
I just did. I flipped the switch on our router.
And then my family freaked out because it disabled our internet... so I had to turn it back on again. But a Verizon rep helped me to banish WiFi in 30 seconds. No worries; it's just as easy to get it back. (Netgear, Linksys, Belkin router instructions and try "admin"/serial # for username/password.)
Our abode is now wireless-less. The only way we access the internet at home is with a wired connection. Yes, it means that my iPad and my son's Kindle are now rendered, uh, less functional. "TOTALLY USELESS," stormed my 13 year-old.
Here's my thought process and some of the research I reviewed before flipping the switch. It got me so worked up that I wrote an open letter to Apple's CEO last week …Read More >>

Polly Murray was the first person to focus on what came to be known as Lyme disease. She and her husband were raising their four children in beautiful Lyme, Connecticut in 1965 when something started making her sick. When it spread to her family (and neighbors), she embarked on a 20 year medical journey to figure out what was wrong. Doctors had no answers and worse, exhibited hostility, rejection, and no sense of urgency to help her family.
Polly persevered. She kept meticulous records of her family's rashes, flu-like illnesses, swollen knees, pain, and other symptoms. Her attention to detail and investigative work led to the 1982 discovery of the spirochete (corkscrew-shaped bacterium) borrelia burgdorferi by Willy Burgdorfer, MD, PhD. Her story is riveting and inspiring. There are parallels with modern day chronic disorders (autism comes to mind) and offers hope to parents engaged in a similar battle for recognition and resources towards prevention, treatment, and a cure.
When Polly's children ask her which of her life accomplishments bring her the most pride, her career as a fine art painter or discovering Lyme Disease, she always says: "Lyme Disease" ...Read More >>
Yekra Player
Yekra is a revolutionary new distribution network for feature films.
The hidden story about vaccines, autism, drugs and food… Americas health has been BOUGHT. Your health, your family's health. Now brought to you by Wall Street… "If you thought they hurt us with the banks, wait till you see what they're doing to health care." Vaccines. GMOs. Big Pharma. Three big, BIG, okay… HUGE topics in one film. Why? Why not 3 films, why put all this in one movie? Great question, 2 answers. 1st and most importantly: We need to band together. We need a mainstream film, not another radical movie that only interests the "already converted". Over 5 million people supported Prop 37 in CA. Reportedly, over 2 million worldwide marched against Monsanto in a global protest. There are thousands of actively involved parents focused on vaccine safety truth. We're going to use multiple groups to make sure the critical message in this film "crosses the chasm" and makes it into mainstream. We've already allied with some of the most successful voices in these areas. We can't afford to stay "silo'ed", focused on only one key issue. These causes are directly related, and we need to harness all of us to draw close to the level of noise put out by the medical-industrial conglomerate. Combining all three topics makes wonderful storytelling, because it's the same villain! You peel back the layers and see what's really driving our industrialized food, our insane vaccine expansion, and our love affair with pharmaceuticals- it's the same villain. It's a risky story to tell, but would be a tragedy to passively consent to with silence. There is something horribly wrong with health care today. Huge money, billions and billions of dollars flowing into the same pockets. Meanwhile, MD's aren't being allowed to actually practice the art of medicine and anyone who questions vaccination safety, pharmaceuticals, factory farms, etc. is ridiculed and belittled. Meanwhile, the billions keep flowing, carried on a river of pain and anguish. Huge corporations funded by individual misery, one broken life at a time. Three huge stories, each worthy of multiple films, but each brought together by one staggering fact: it's the same villain. These three story lines converge on Wall Street, in a tale of corruption, greed and shocking lack of conscience.
Shop & Give Back!
Just click on this link to get to Amazon.com and 1/2 of 1% of your order will go to support Fearless Parent, at no cost to you.