Are you ready to get cultured foods into your kitchen? 
What are cultured foods? Why are they called cultured? Are they just pickles or is there more to it? Are we talking about German sauerkraut and Korean kimchi? Japanese miso and Greek yogurt?
(Quick answer: all of them!)
What are some of the different ways to use ferments? Are they just snacks and accents or can they be part of your daily recipes? Tell us about rejuvelac and kvass!
How can you tell the difference between a live ferment and a pasteurized pickle?
How, exactly, are these foods nourishing and healthy? What do they have to do with probiotics?
Are ferments difficult to make? What tips can you offer? Will my kids eat them?
Host Toni Bark interviews the author of The Cultured Kitchen, which draws on the traditions of fermentation from around the world … Read More >>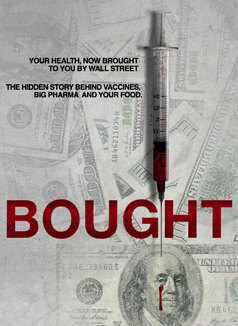 To some degree, most of us are "bought." If we shop at big-box stores or watch mainstream TV, for example, we willingly expose ourselves to some of the best influence that money can buy. We may think we have freedom of choice when, in fact, we participate in and fund (through our purchases) a process that allows our choices to be constrained for us.
No one believes she's an easy mark. But there's a good reason that drug companies spend like mad (24.3% of total revenues) to sell us hard. It works. Americans fill 4 billion prescriptions per year costing $320 billion (excluding OTC meds and vaccines). Since 30% of us opt out, we're talking about 18 prescriptions -- not pills! -- per Rx-popper.
Now what if I told you that Americans spent more on healthcare ($3.8 trillion!) and less on food than any other country in the world? Would that make you curious? Would you wonder if there was a relationship? Would you follow the money where it took you, inside the controversy and to the front lines of the battle? Would you take on vaccines and GMOs and place a bullseye on Big Food and Big Pharma? …Read More >>

As a physician, informed consent means I have an obligation to my patients. I must research and relay what I can about a given intervention's risks, known and unknown, in the context of the purported benefits, and potential alternatives. The prescription of birth control, which interferes with reproductive hormones, is an example of an egregious lapse in true informed consent.
That Naughty Little Pill
Oral contraceptives confer significant risks to mood, carcinogenesis, and even sudden death. This is in addition to masking potentially reversible pathology -- such as PMS, PCOS, and acne. Exploration into underlying mechanisms has revealed that these agents deplete nutrients, cause inflammation, and perturb hormones such as testosterone and thyroid. As I discussed in a previous article:
THYROID, MOOD, AND LIBIDO
Synthetic hormones like those in combined oral contraceptives increase thyroid and sex hormone binding globulin, effectively decreasing the available testosterone and thyroid hormone in circulation. This can render you with nun-like libido, and functionally hypothyroid or depressed, constipated, overweight, mentally cloudy, with dry skin and hair, to boot!
Not exactly what women have in mind when signing up for birth control …Read More >>

Yekra Player
Yekra is a revolutionary new distribution network for feature films.
The hidden story about vaccines, autism, drugs and food… Americas health has been BOUGHT. Your health, your family's health. Now brought to you by Wall Street… "If you thought they hurt us with the banks, wait till you see what they're doing to health care." Vaccines. GMOs. Big Pharma. Three big, BIG, okay… HUGE topics in one film. Why? Why not 3 films, why put all this in one movie? Great question, 2 answers. 1st and most importantly: We need to band together. We need a mainstream film, not another radical movie that only interests the "already converted". Over 5 million people supported Prop 37 in CA. Reportedly, over 2 million worldwide marched against Monsanto in a global protest. There are thousands of actively involved parents focused on vaccine safety truth. We're going to use multiple groups to make sure the critical message in this film "crosses the chasm" and makes it into mainstream. We've already allied with some of the most successful voices in these areas. We can't afford to stay "silo'ed", focused on only one key issue. These causes are directly related, and we need to harness all of us to draw close to the level of noise put out by the medical-industrial conglomerate. Combining all three topics makes wonderful storytelling, because it's the same villain! You peel back the layers and see what's really driving our industrialized food, our insane vaccine expansion, and our love affair with pharmaceuticals- it's the same villain. It's a risky story to tell, but would be a tragedy to passively consent to with silence. There is something horribly wrong with health care today. Huge money, billions and billions of dollars flowing into the same pockets. Meanwhile, MD's aren't being allowed to actually practice the art of medicine and anyone who questions vaccination safety, pharmaceuticals, factory farms, etc. is ridiculed and belittled. Meanwhile, the billions keep flowing, carried on a river of pain and anguish. Huge corporations funded by individual misery, one broken life at a time. Three huge stories, each worthy of multiple films, but each brought together by one staggering fact: it's the same villain. These three story lines converge on Wall Street, in a tale of corruption, greed and shocking lack of conscience.
Shop & Give Back!
Just click on this link to get to Amazon.com and 1/2 of 1% of your order will go to support Fearless Parent, at no cost to you.