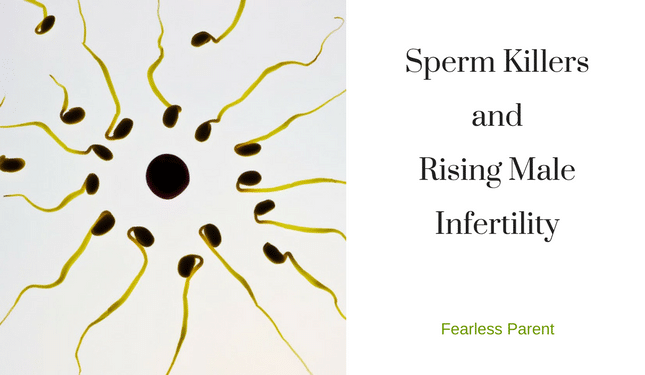 by Pratik Chougule, JD
The sperm density of American males may be declining at a rate of 1.5 percent per year.
In my latest piece in The American Conservative I investigate what's driving this alarming decline in sperm quality and why even amid an historic expansion of government's role in health care, male infertility has merited little discussion in mainstream discourse.
The issue is particularly noteworthy given that male infertility is considered a "fundamental biomarker of overall male health" and a barometer for male outcomes in American society generally.
Why the government is ignoring an epidemic
INDUSTRY LOBBIES AND AGENCY CAPTURE
Introduced into commercial use in the 1950s, BPA is a plastic additive that allows a wide array of goods to be produced at low costs. The BPA industry, on track to cross $20 billion in revenues by 2020, has already put the chemical in hundreds of household objects including plastic containers, eyeglasses, and canned foods and beverages. BPA was found in the urine of 93 percent of a survey population tested by the CDC between 2003 and 2004…
[S]tudies suggest that while nearly all American males, compared to past generations, may be at greater risk for BPA-related declines in sperm quality, the threat is particularly acute for those with heightened environmental exposure and/or predisposing factors.
Dogged by questions since the 1970s about BPA's safety, industry groups, backed by corporations such as Alcoa, Coca-Cola, and Del Monte Foods, have undertaken a sophisticated lobbying effort to thwart regulatory limitations on their products. Their playbook is modeled on past efforts by big tobacco and is being carried out by the same "product defense consultants" who went to bat for asbestos and Agent Orange…
The BPA industry is overseeing a long-term strategy, rallying against bills even when BPA is not directly implicated. The goal is twofold. One is to preempt precedents that could galvanize a consumer safety movement directed at BPA exposure. Another is to establish an unreachable standard of proof that, by discrediting specific testing methods, effectively undermines the entire process of safety testing.
In these battles, the BPA lobby has found a convenient if unsurprising ally: the Food and Drug Administration (FDA). As evidence of BPA's safety, the industry has invoked the "FDA's authority" and the "scientific assessment" of its experts. Why? Under existing FDA guidelines, academic research often gets "second billing to industry and government studies." In the name of vague "data quality standards," cutting-edge academic research is frequently disregarded while studies in labs financed by the BPA industry are used to inform government safety assessments.
IGNORANCE AND REGULATION OF ALTERNATIVE THERAPIES
Even if the government is unwilling to battle powerful industries, why isn't it facilitating access to innovative treatments? Part of the reason may be that the most promising therapies for male infertility appear to be in the realm of alternative rather than allopathic medicine. Efforts to expand access to integrative treatments, however, tend to provoke resistance from a medical establishment that has generally remained ignorant and/or skeptical of alternative approaches…
At least in the realm of male infertility, government's lack of interest in alternative medicine seems outdated. Over the past two decades, a variety of placebo-controlled studies and case reports have demonstrated the ability of acupuncture and moxibustion to produce improved sperm quality. Herbology, according to clinical studies, leads to pregnancy or restored fertility in 70 percent of both male and female infertility cases. And homeopathic therapy has shown in studies and case reports significant improvements in critical sperm markers.
Yet under the Dietary Supplement Health and Education Act of 1994, it is illegal to claim that the supplements used in these practices "diagnose, cure, mitigate, treat or prevent illness."
MISGUIDED PUBLIC POLICY FOR YOUNG MEN
The government's attitude toward alternative medicine is one facet of a broader tendency to avoid grappling with male infertility in a holistic paradigm.
Allopathic approaches tend to view male infertility as an obstruction of the reproductive ductal system—a condition to be managed with microsurgery or expensive reproductive technologies. Artificial insemination, in vitro fertilization, and intracytoplasmic sperm injections do not aim principally to improve patients' underlying sperm quality or address the root causes of their suboptimal health.
Alternative medical practitioners are more inclined to view male infertility as a symptom of systemic imbalances in the emotional and physical wellbeing of patients. The fact that sperm quality, in some studies, is negatively correlated with occupational psychological stress, psychosocial distress, fear, and fright arguably lends credence to a more holistic perspective.
Skepticism is warranted as to whether governments ultimately have an incentive to view male infertility from a holistic perspective. For doing so could raise uncomfortable questions about the consequences that bipartisan policy choices have had for young and middle-aged men.
What's next?
It is too soon to tell what impact, if any, the Trump administration will have on the male-infertility issue. Trump has criticized specifically the FDA's "inspection overkill" of farm-production hygiene and food-packaging rules, some of which involve regulation of infertility-related chemicals. His deregulatory approach is reflected in the administration's proposed budget, which would eliminate the Endocrine Disruptor Screening Program responsible for monitoring BPA and other chemicals. Trump's nominee for FDA commissioner does embody the corrupt revolving door between the agency and the pharmaceutical industry.
But in a context in which government agencies have proven unable to excise themselves from corporate capture, President Trump's deregulation agenda may, over the long run, diminish industry influence over government inquiries into male infertility.
Here's the link to the full piece.
I'm curious to hear your thoughts. Leave a comment below, find me on Twitter @pjchougule, or send me an email pjchougule@gmail.com.
Pratik Chougule, JD is an executive editor at The American Conservative magazine. He served as the policy coordinator on the presidential campaigns of Donald Trump and Gov. Mike Huckabee. From 2008-2009, Chougule was a Bush administration appointee at the State Department in the Office of the Under Secretary for Arms Control and International Security. Chougule graduated Phi Beta Kappa from Brown University and holds a JD from Yale Law School.