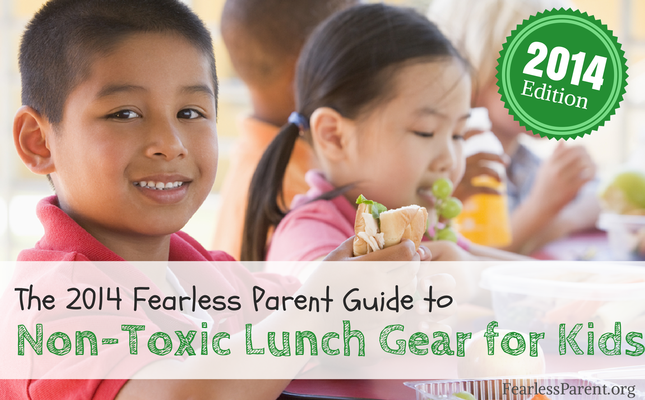 *This post is graciously sponsored by MightyNest By Lea, The Maverick Mama
Parents, it's that time of year again.
Ah, end of summer. A bittersweet time for our children, as they bid goodbye to lazy days in the pool and frolics in the park, our days give way to preparing for…Back to School! We trade the smell of fresh-cut grass and ripe berries for the aroma of fresh notebooks and pencils. And for many of us natural-minded folk, that also means packing those school lunches! Packing your child's lunch provides a host of benefits: ensuring your child is eating meals that are balanced, and nutrient-dense is welcome peace of mind when they are typically barraged by sugary, deep-fried and nutrient-devoid "food" choices at school. However, packaging lunch for portability with disposable materials is costly and extremely harmful to the environment.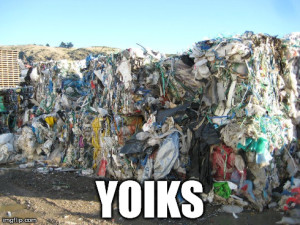 It's estimated that the average school student lunch produces 67 pounds of waste per year, which can total up to 18,000 pounds per school! The solution? Reusable lunch gear!  Except for one problem: the vast majority of reusable lunchboxes and water bottles kids go to school with are made entirely of plastic. A number of studies over the last decade revealed a host of unsavory ingredients lurking in children's lunch containers such as phthalates, PVC, melamine, and lead. One-third of sampled lunchboxes contained lead (2007 study) and 75% of 20 popular Disney Princess food containers and school supplies contained phthalates (2012 study) despite having been banned from toys four years earlier!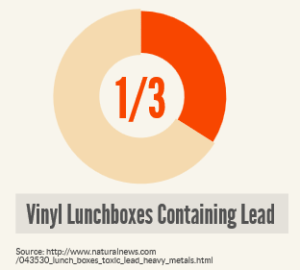 Call me crazy but I'm pretty sure these toxins shouldn't be "Part Of Their World". But the ingredient that has set the plastic container industry on fire is Bisphenol-A, better known as BPA. Long story short, the leaching of BPA into food from containers has been linked to hormonal disruption, behavioral issues and cancer, and our children are particularly susceptible. Leaching can happen at any temperature, but worsens when microwaving food in plastic. When this news broke, manufacturers went into upheaval to remove BPA from water bottles, cans, containers, you name it. Today, BPA-free is one of the loudest marketing terms on plastic food containers today. But is it enough? Maybe not. Many manufacturers have scrambled to replace BPA with its cousin, Bisphenol-S. Unfortunately, new research is showing that alternative chemicals such as BPS are even worse than BPA itself: [perfect_quotes id="5444″] The leaching properties are compounded when we microwave food and drink in plastic, concocting a creepy chemical cocktail that has yet unknown long-term effects. While I completely understand the convenience behind plastic, I now know that there are so many other non-leaching, durable, affordable, and stylish food containers available. These containers use mostly stainless steel, tempered glass and renewable wood materials to keep foods warm and safe for your children. While many of them have plastic cases and covers which conveniently maintain the temperature of the food and prevent burns, you can rest assured that the plastic shell isn't seeping creepy stuff into the goodness inside.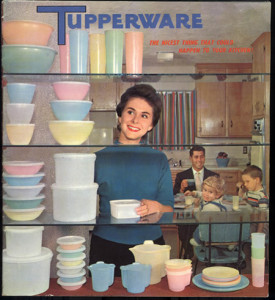 After months of live testing on my delightfully delicious toddler known as The Judgey Bear (my toxin-free deputy), I've rounded up a sweet suite of kid-friendly, non-toxic lunch gear for you just in time for the September bell! Your kids will be heading back to school in style and can rest easy knowing their food will be free from creepy chemicals. Saddle up folks, it's time for…
The 2014 Fearless Parent Non-Toxic Lunch Gear Lineup!
Here are the Crunchy Criteria I used for evaluation:
Main container that touches food must be made from non-toxic, preferably renewable materials. These include glass, wood or stainless steel. That does NOT include phthalates, melamine, lead, PVC, BPA, or BPS
Must be durable and survive epic dropping, banging, and throwing episodes
Made in America or in good working conditions abroad
Bonus: Insulated and leak-proof
Behold this year's winners!
no images were found
BENTO BOXES
Originating in 12th century Japan, these nifty lunch boxes offer separate compartments for each food, which is great for especially picky eaters. Divided containers will help keep your munchkin's fruit and fermented veggies from drowning in her grass-fed yogurt. TOP PICK (Leak-proof Bento): Innobaby Keepin' Fresh Divided Bento Box This is the workhorse of my toddler's lunch gear arsenal. Insulated, leakproof, and convertible, this is a real winner. A handy removable metal tab gives you flexibility for packing a whole casserole or an egg scramble and side of pastured bacon. I have dropped this bad boy filled to the brim more than once and I can assure you, it stays locked tight! TOP PICK (All-Steel Bento): LunchBots Uno, Duo, Trio, Quad & Cinco These are great if you want to avoid plastic altogether and desire configurations of up to 5 compartments. Keep in mind that these are not airtight, so it's best for sandwiches with a side of cut veggies, dried fruit, or nuts.
LUNCH TIFFIN
Wait, a whaffin? A tiffin carrier or "dabba" is a layered lunchbox that was first popularized in India, and can keep separate meals hot or cold for several hours. I use a tiffin to transport my breakfast and lunch to work to prevent emergency cafeteria runs. TOP PICK: Life without Plastic Stainless Steel Tiffin Use the three tiers of this tiffin to pack a salad, sandwich, "zoodles" (zucchini noodles, that is) with meatballs, etc. All pieces are dishwasher-safe, And there's no plastic to be seen here! Note that they're not leakproof, so these are better for tweens or teens who want to bring a touch of sophistication to their lunch.
INDIVIDUAL CONTAINERS
These are fantastic for when your younger child is adapting to solids, or for quick snacks on the go that won't be coated in melted plastic from sitting in the car too long. TOP PICK: InnoBaby Keepin' Fresh Stainless Steel Bento The Divided Snackbox's close cousin holds a sizable 15 ounces and features an airtight lid made of #5 polypropylene, considered to be a safer plastic option. Great for larger stews or kiddies with voracious appetites like the Judgey Bear. BOWL: Think Baby Bowl Simple, versatile, and easy to clean. It's not completely airtight like the other, but it will stay dry as long as it's upright. I save time in the morning by packing his frittata or oatmeal the night before, then popping the steel insert to reheat in our infrared toaster oven (our microwave serves as storage for baking dishes!). SNACKS: Kid Konserve Nesting Trio I have multiple sets of these for me and my child to bring mixed berry bowls, oatmeal, yogurt, and anything else delicious to school and work. These are completely airtight, so no leaks in the lunch bag!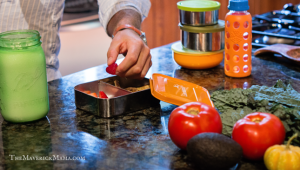 THERMOSES & FOOD JARS
TOP PICK: Thermos Foogo Vacuum Insulated Leak-Proof Food Jar The kid-friendly Foogo keeps 10 ounces of soup or stew warm for 5 hours, has an ergonomically designed lid for little hands and is super easy to clean. They also offer a beverage bottle with straw spout. RUNNER UP: Kid Konserve Airtight Food Jar  This jar holds a sizable 12 ounces, and like the Foogo it is double-walled and vacuum-insulated.
UTENSILS
TOP PICK: Bamboo RePEaT Utensil Set This beautiful set includes a fork, knife, spoon, and chopsticks carved from sustainably-harvested bamboo in a lovely recycled woven carrying case. RUNNER UP: Din Din Stainless Steel Spoon & Fork Set This cutlery set is made with durable food-grade stainless steel and comes with a convenient carrying case to keep lunch bags squeaky clean after mealtime.
SNACK & SANDWICH BAGS
TOP PICK: Eco Ditty Organic Cotton Reusable Sandwich Bag  Beautiful and functional, these velcro-fastened fabric sandwich bags are made in the US with low-impact dyes and 100% unbleached organic cotton. IN A PINCH: If You Care Paper Snack & Sandwich Bags Yes, I know these are not reusable. But sometimes busy families need paper in a pinch, and these bags are unbleached, greaseproof, and made from renewable resources.
LUNCHBOXES & COOLERS
TOP PICK: SoYoung Cooler Bag  I have one word for these coolers: GORG. Available in an array of lovely colors and vintage kid-friendly motifs, they are insulated, leak-proof, and large enough to carry an assortment of containers plus a water bottle. They can also be worn as a backpack or messenger bag! BIG bonus: Although these are made in China, the company routinely and rigorously inspects the facilities for acceptable work conditions and fair compensation. How sweet is that?? RUNNER UP: Wildkin Insulated Lunch Box  This is a great option for a classic lunchbox feel without the worry of PVC in the potato salad. Insulated, durable, and available in 13 colors. Not leakproof but easy to clean.
WATER BOTTLES
TOP PICK: LifeFactory Glass Bottles Oh LifeFactory, how we love thee. We've used you since The Judgey Bear was a wee babe and have used you every day since. These fantastic finds are fashioned from durable tempered glass and cozied in a cute rubber casing. I can't count how many tosses on our ceramic tile floor you have beautifully survived. It is staggering to think how many pounds of Poland Spring plastic you've helped us rescue from landfills! RUNNER UP: Kleen Kanteen Many schools don't allow glass containers and bottles, including ours. It features a no-clog polypropylene sport cap for easy sipping. We use the sippy spout for our toddly munchkin and will be graduating him to the sport cap soon.
And there you have it! So many options for a healthier lunch. Hopefully the toughest choice you'll have to make now is choosing which fun colors to grab! While the jury's still out on the long-term toxicity of some plastics, there's just no reason to send our kids to school with chemical-laden lunch gear when these awesome alternatives exist. All of these great picks and more are available on MightyNest, a company dedicated to toxin-free school lunches. MightyNest will donate 15% of your purchase to your school of choice, are offering an exclusive giveaway for $100 worth of merchandise for taking the pledge to involve your children in preparing their real food school lunches this year! But you have to hurry, this giveaway ends August 31st, 2014! Your school can also be entered to win $1000 in the "Let's Do Lunch Challenge." (They) will be drawing 3 (three) $1000 winning schools from all of the entries through August 31st. The more entries you and others at your school earn, the better the chance of winning. Visit MightyNest for more ways to earn entries.
CLICK HERE TO ENTER THE MIGHTYNEST GIVEAWAY:
With this new eco-friendly and non-toxic lunch gear in hand, your child's lunch is soon to be the talk of the table! For ideas on what to put in these delightful lunch containers, check out this great post by Live Simply for Healthy Real Food Lunches for Real Food Kids! And that's my real food for thought.
What are your favorite non-toxic kids lunch gear items? Let us know below!

Lea is the voice behind The Maverick Mama, where she offers real food for thought on nourishing real food, holistic health, and progressive parenting. She is a seasoned digital marketer, doting wife, and mother of the monolithic Judgey Bear, her delicious deputy in smoking out sneaky toxins in the food we eat and products we use. She lives in the gardens of New Jersey where she feverishly hunts down elusive farmers' markets and pastured egg purveyors. Follow her on Facebook, Twitter and Pinterest! Photo credit: Kids: Canva / Monkey Business images Landfill: Flickr / Sustainable Initiatives Fund Trust Tupperware: Flickr / Athenamama Product photos: MightyNest STANDARD FTC DISCLOSURE: In order for Fearless Parent™ to support our blogging activities, we may receive monetary compensation or other types of remuneration for our endorsement, recommendation, testimonial and/or link to any products or services from this site. Please note that we only ever endorse products or services that align with the Fearless Parent™ standards and that we believe will benefit our valued readers. You may read our full disclosure statements here.