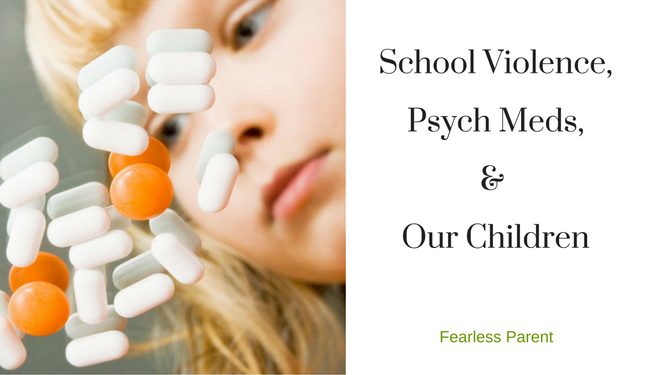 by Kelly Brogan, MD, with Louise Kuo Habakus

Editor's note: We acknowledge with great compassion that this is a particularly challenging topic for the many families who make the difficult decision to put their children on psych meds. We believe all parents must be given the most accurate information about these medications, including side effects, the necessity of properly tapering off medication, the lack of safety testing on children and young adults, the institutional incentives for medical doctors, educators, and others to advocate their use, and the availability of effective non-pharmaceutical avenues of treatment that can address root causes of mental illness and behavioral problems. Kelly is a holistic, board-certified psychiatrist. This blog is not medical advice and does not replace consultation with a qualified medical professional of your choosing.

School should not be a place of danger. We can all agree on that premise, and we can debate how and why things have gone awry.
Is it media? Bad parenting? Access to weapons?
We have our own theories about what is driving bad behavior and mental illness in the pediatric population. It is surely tied to the effects of our environment and our food system on our pregnancies and developing minds. We are writing here, today, for a specific reason.
It is time to push psychiatric medications into the uncomfortable limelight
Antidepressants and stimulant medications are prescribed with increasingly lower thresholds, no standard of medical diagnosis, and without independent safety or efficacy data. In fact, what is known about their risks, has been uncharacteristically supported by the FDA in the form of black box warnings of impulsive morbid violence (suicidality) for teens and children prescribed these medications.
As of this 2010 paper, the FDA had received more reports of violence associated with SSRI antidepressants than any other medication, with Prozac and Paxil leading the pack.
All antidepressant inserts carry the warnings of activation, impulsivity, insomnia, and mania. The Diagnostic and Statistical Manual of Mental Disorders (DSM) itself and the American Pyschiatric Association Practice guidelines document a spectrum of behavioral side effects that result directly from antidepressant treatment.
Given these concerns, the only reason this would be considered an appropriate intervention is because the doctor recommends it.
During my (Kelly's) residency at Bellevue/NYU in NYC, I recall being taught that the "reason" for suicidality in teens who take antidepressants is that they are just energized to act on previously existing impulses, aka, it's the illness itself, not the med. I can hear her colleagues now:
"Well, you have to control for confounding by indication – these people who are prescribed these medications are more likely to be unstable and to do these things."
The truth is that, since its introduction in 1988, reports of Prozac-induced violence have prompted modification of the label and package insert to include "violent behavior" and "suicidality" just two years later. There are several controlled trials in the adolescent population that have demonstrated a two- to four-fold increased incidence of self harm behaviors and development of manic spectrum symptoms, which include impulsivity and bizarre and/or volatile behavior.
I was taught that, when patients experienced symptoms of insomnia, increased energy, and impulsivity after starting an antidepressant, it meant that we had discovered their "real" diagnosis, and that they are "bipolar" necessitating other medications.
It took a long time for me to finally appreciate that these medications are intoxicants. They, in no way, "correct" for underlying imbalances.
As we have no evidence to date that any mental illness represents an imbalance of brain chemicals, particularly serotonin, we can only assume that medications create imbalances. They perturb trafficking of neurotransmitters, affect the activity of stress hormones like cortisol, and interfere with inflammatory signaling. In an entirely unpredictable fashion, they enter the black box of the brain and immune system and exact changes.
The role of antidepressants in 66 school shootings has been addressed by sites like SSRI Stories that catalog incidences relevant to the interplay between child violence and "treatment" with these medications. Given the extensive literature to support these known behavioral side effects in children and adults, it appears likely that these criminal minds were under the influence of medication treatment or withdrawal.
Peter Breggin, MD, a long-standing critic of conventional psychiatry, has collated these papers into a comprehensive indictment of psychotropics in violent and impulsive behavior in all demographics. He discusses the plausible effects of these medications:
The production of a stimulant continuum that often begins with lesser degrees of insomnia, nervousness, anxiety, hyperactivity and irritability and then progresses toward more severe agitation, aggression, and varying degrees of mania. Mania or manic-like symptoms include disinhibition, grandiosity, sleep disturbances, and out-of-control aggressive behavior, including cycling into depression and suicidality.
The production of a combined state of stimulation and depression – an agitated depression – with a high risk of suicide and violence. Often the overall depression is markedly worsened.
The production of obsessive preoccupations with aggression against self or others, often accompanied by a worsening of any pre-existing depression.
The production of akathisia, an inner agitation or jitteriness that is usually (but not always) accompanied by an inability to stop moving. It is sometimes described as psychomotor agitation or restless leg syndrome. The state causes heightened irritability and frustration with aggression against self or others, and often a generally worsening of the mental condition.
He discusses epidemiologic studies, forensic, and case reports such as this child treated with Prozac:
Thirty-eight days after beginning the protocol, F. experienced a violent nightmare about killing his classmates until he himself was shot. He awakened from it only with difficulty, and the dream continued to feel "very real." He reported having had several days of increasingly vivid "bad dreams" before this episode; these included images of killing himself and his parents dying. When he was seen later that day he was agitated and anxious, refused to go to school, and reported marked suicidal ideation that made him feel unsafe at home as well.
His symptoms reportedly escalated until discontinuation of medication.
Are our children under the influence? Is bullying and other school violence related to what conventional medicine believes to be appropriate treatment of problematic behaviors? Are we treating syndromes of lifestyle including chemically processed, sugar-laden diets, poor sleep, and high stress levels and excessive medical interventions such as microbiome-disrupting antibiotics and neurotoxic vaccines, with yet more toxins?
Antidepressants may then be, truly, pushing us all out of the frying pan and into the fire.
There is undoubtedly much work to be done to remediate academic practices so that our children can learn in an environment that feels safe.
We have to demand awareness of early warning signs of impulsive and violent behavior.
We have to nourish our children, and protect them from environmental toxins.
We have to expose the role of conventional medical treatments in the face of a harrowing escalation of school-based violence.
Doctors and consenting parents would do well to remember: "first, do no harm".
Kelly remains in awe of the potential for lifestyle-based medicine to do what no pill could safely achieve. Louise adds to her recommended reading list below with a heavy heart.

Recommended Reading