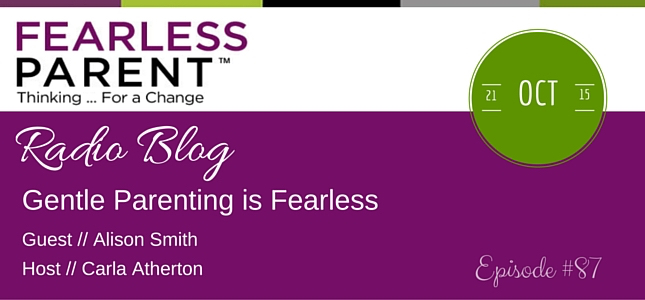 #87 — Gentle Parenting is Fearless ** October 21, 2015
Guest // Alison Smith ** Host // Carla Atherton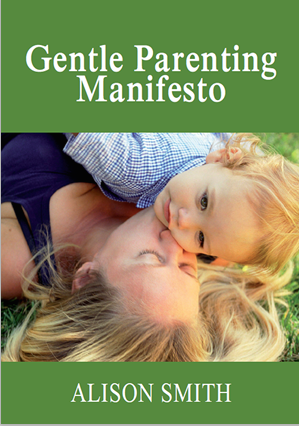 Modern parenting can be an exercise in extremes and contradictions.
We're afraid to let kids walk to the park by themselves but we leave them unattended for hours with the entire internet in their pockets.
We enroll them in private schools, hire private tutors, run them around to extra classes and activities, and then wonder why they can't tolerate a moment of boredom or unstructured time.
We work long hours and then plan over the top vacations and parties to create "quality time" and assuage our guilt.
And then we're at a loss when our kids act out.
Do you believe children will revert to a Lord of the Flies ethos if left to their own devices?
Were you raised by time outs, consequences, spankings, or behavior charts?
Do you believe they'll be grateful for your firm hand and "tough love" when they grow up?
What if the strict rule-oriented adversarial, "manipulation not friendship" parenting model isn't quite right for your kids?
Did you know that helicopter parenting is worse than you think, associated with depression, and creates "excellent sheep" who are afraid of failure?
Join host Carla Atherton, with author Alison Smith who discusses modern parenting insights in her new book The Gentle Parenting Manifesto.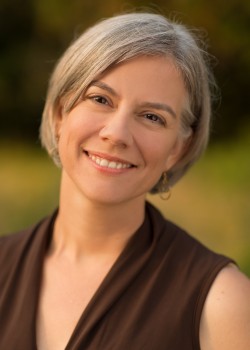 Alison Smith was a school teacher who left her conventional world following three catalyzing events — the first was her life partner's serious illness, the second was the road to his subsequent recovery, and the third was motherhood. Alison is a life coach, entrepreneur, author, and educator. She is a Creator's Code Certified coach and author of the Gentle Parenting Manifesto.
Learn more about her work at Alison Smith Coaching.com.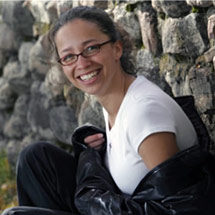 Carla Atherton, MA, Director of the Lotus Health Project, Writer and Editor, Workshop Instructor, Functional Diagnostic Nutrition practitioner, Transformational Nutrition Coach, Yoga Instructor, Health (R)evolutionary, and Children's Health Advocate. Carla is a trained Functional Diagnostic Nutrition practitioner and Transformational Nutrition Coach, and is a creative and academic writer, lecturer, workshop instructor, acreage-living, unschooling mom of three. She is passionate about health and wellness, which, to her, involves all aspects of health including the physical, mental, emotional, and spiritual. Carla created the Lotus Health Project, the Children's and Teen Health (R)evolution, and its biannual online Children's and Teen Health Summit in order to further her mandate – to let people know, both young and old, they are not alone in their health challenges or management and that anything can be overcome if you have the right mind and information.