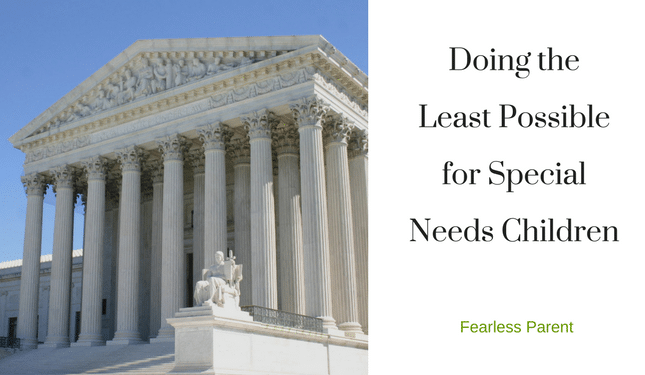 by Robert J. Krakow, Esq

A nation's greatness is measured by how it treats its weakest members."
~ Mahatma Ghandi
In my legal representation of families who have children with severe disabilities, I have observed their extreme difficulties. My law practice focuses on claims that negligence, malpractice, or vaccine injury cause severe disabilities of all kinds in children and adults.
On occasion, I have represented families before school districts, fighting for appropriate educational supports for special needs children. These education law cases are among the most contentious of any I have handled. And I have both prosecuted and defended homicide, racketeering, narcotics trafficking; cases that carry the most severe penalties in law. They pale in comparison with the fight that parents must wage against their school districts. That reality has always left me shaking my head in amazement and disappointment.
"A free and appropriate public education"
The playing field in which families struggle to get their kids services is governed by the Individuals with Disabilities Education Act (IDEA). Over the last several decades IDEA strengthened the 1975 Education for All Handicapped Children Act, which established the principle that a child with a disability is entitled to a free and appropriate public education.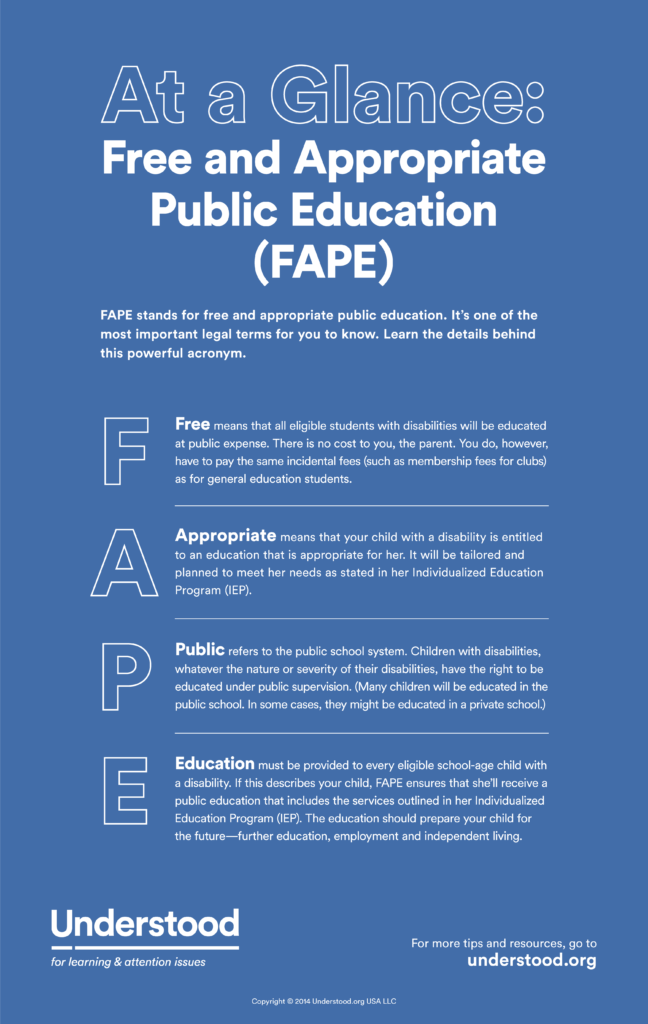 This mandate, however, is insufficiently funded. School districts struggling with budgets train themselves in inventive ways to limit the resources devoted to special needs children. Even the wealthiest districts can take an aggressive stance in their effort to limit services to severely disabled children.
The adversarial nature of special education committee meetings rivals the most contentious negotiation or courtroom confrontation. Districts fail to keep promises to children, relying on technicality, intimidation, and subterfuge to make parents, who often lack resources, sophistication, and lawyers, go away empty-handed, with less than their child needs to make educational progress. The result is that the most vulnerable children are shortchanged.
Supreme Court upholds the high IDEA standard
Fortunately, IDEA establishes minimum standards that help to rein in the schools, and force them to provide at least basic educational services to our most vulnerable children.
Sometimes, unfortunately, the courts tilt the playing field toward the school districts. This is what happened in Colorado 2008 when a Federal court interpreted IDEA in a way that would have deprived a severely disabled autistic student of services he desperately needed.
On March 22, 2017, thankfully, an enlightened and unanimous Supreme Court balanced the field in a landmark case called Endrew. In the process of deciding Endrew, the Supreme Court effectively rebuked the Trump nominee, Judge Neil Gorsuch, who may soon join the Court's ranks. In doing this, the Supreme Court highlighted Gorsuch's institution-centric and people-antagonistic judicial bent.
Gorsuch tried to diminish the IDEA standard
The controversy leading to the Supreme Court's Endrew opinion started with the opinion by Gorsuch in the Thompson School District case in the U.S. Court of Appeals for the Tenth Circuit.
In the Thompson case, the school district failed to provide Luke, a child with autism, with the educational services guaranteed to him by the Individuals with Disabilities Education Act. As parents by the tens of thousands will recognize, Luke had trouble generalizing skills learned in the school setting to his home and other places. Luke's parents asserted that because of the severity of the Luke's disability, only a private residential school could provide him with an adequate education.
Luke's parents withdrew him from the public school to enroll him in a private residential program. They sought reimbursement of Luke's tuition costs from the school district, but the school district refused. A Colorado administrative agency decided that although Luke had been making some progress in his IDEA goals in the public school setting, this progress was not sufficient to justify the school district's refusal to reimburse Luke's parents for the private residential school tuition. The school district then sued Luke's parents, contesting the order to pay the private school tuition, but the Federal District Court agreed with the administrative agency decision.
"Merely" more than de minimis
Gorsuch, writing for the 10th Circuit Court of Appeals, reversed the agency and District Court decision, denying reimbursement to Luke's parents. Gorsuch found that because Luke had made some educational progress in the Thompson school district, the district was in compliance with IDEA. Gorsuch found that it was sufficient if Luke had made any progress at all, even if barely more than minimal.
In favoring the Thompson School District, Gorsuch belied the claim that he is a strict constructionist who applies the letter of the law. He misapplied the IDEA standard that requires school districts to provide "more than de minimis" educational benefit. Instead, Gorsuch applied a different, "merely" "more than de minimis" standard. Here is what he wrote:
… we have concluded that the educational benefit mandated by IDEA must merely be "more than de minimis."[i]
The word merely, added to the "more than de minimis" IDEA standard by Gorsuch, operated to reduce the standard below what IDEA mandated. Remarkably, that is not my opinion, but was the subject of the March 22, 2017, Endrew Supreme Court Opinion. In a powerful irony, the Endrew opinion was issued at the very same time Gorsuch was declining to answer most of the questions posed to him by Members of the Senate Judiciary Committee in a confirmation hearing.
SCOTUS set Gorsuch straight in Endrew
In the Endrew oral argument, Supreme Court Justices queried who put the word "merely" in the IDEA standard, as originally it was not there. The Justices discovered it was Gorsuch and his Appeals Court colleagues who had inserted the word "merely." The Supreme Court unanimously rejected this improper modification of the law.
Gorsuch had adopted, in inserting the loaded word "merely", an interpretation of IDEA that provided the lowest possible standard of educational services to disabled children. Gorsuch imposed a standard below the more than minimal standard mandated under IDEA: he said it was "merely" more than minimal, suggesting a standard even lower than the low bar provided for disabled children under IDEA.
Here is the Supreme Court Justices' colloquy from Endrew about the "merely" standard, used by Gorsuch in his 10th Circuit decision:
JUSTICE GINSBURG: Who — who put the term, "more than merely de minimis"? That's the formula that we're — that you are espousing.
JUSTICE KAGAN: And de minimis is not enough, you know. It's "merely de minimis."
To be fair, ideological supporters of Gorsuch have argued, notably in the conservative National Review, that Gorsuch was "merely" applying the standard that was established by Tenth Circuit precedent, so he was "merely" following the law in an area left unresolved by the Supreme Court of the United States.
Gorsuch no doubt maintains he was following precedent. When it comes to disabled children, however, just following precedent isn't sufficient, especially when the presumed precedent actually modified the standard established by the language of the IDEA statute. When it comes to political or judicial actions affecting disabled children, we must adopt a zero-tolerance approach, applied uniformly and transcending political or ideological allegiances.
"IDEA standard is markedly more demanding"
It was Chief Justice Roberts, no liberal ideologue, writing for a unanimous Supreme Court in Endrew, who critiqued the idea that a "merely" gloss should diminish the "more than de minimis" standard. Chief Justice Roberts found the IDEA standard "is markedly more demanding than the 'merely more than de minimis test applied by the Tenth Circuit." Indeed, Roberts added, Gorsuch's approach would effectively strip many disabled students of their right to an education. Roberts elaborated:
When all is said and done, a student offered an educational program providing "merely more than de minimis" progress from year to year can hardly be said to have been offered an education at all. For children with disabilities, receiving instruction that aims so low would be tantamount to "sitting idly . . . awaiting the time when they were old enough to 'drop out.'"
Protect the rights of children with disabilities
My uncle, the late Harry Kamish, was part of a vanguard of Bronx, New York parent activists who organized themselves in the late 1940's to combat the deficien (i.e., shamefully absent) educational services for developmentally disabled children.
Back then, the public schools offered nothing for special education students. In fact, such students were, in effect, expelled from public schools after the 8th grade. It was from this retrograde public school environment that finally, decades later, parents pushed the law to require public schools to, at least, provide a more than minimal education. Not a "merely" more than minimal education.
It is only through zealous parent activism that we have ever combated the powerful, who never shy away from doing the least they can for our most vulnerable people.
Gorsuch and his Tenth Circuit colleagues, in their claimed adherence to the letter of the law, significantly diminished the standard that the law of the land, IDEA, provided for students with disabilities. "More than de minimis" became "merely more than de minimis."
Gorsuch could not resist the opportunity to follow incorrect precedent and apply an inappropriate standard effectively lowering the statutory burden on a public institution, at the expense of individual students. Gorsuch and his colleagues saw a chance to do the least they could for the most vulnerable. By that measure, he and his colleagues diminished our society.
Thankfully, wiser minds on the Supreme Court of the United States rose in unison to the challenge to raise the bar and elevate our society by buttressing its most vulnerable. Will the Supreme Court continue America's tradition of supporting its weakest, which truly makes our nation great, if Trump's appointee, Gorsuch, joins the ranks of the Supreme Court?
Originally published in Disabilities Law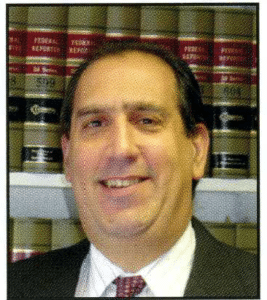 Robert J. Krakow practices law in New York City. In his almost 40 years as a lawyer, he has worked as a community organizer, university lecturer, public interest advocate, NYC (Manhattan) Prosecutor and Chief of the Narcotics Bureau, and trial attorney representing individuals in Federal and State Court. For the last 15 years he has placed a special focus on representing children and adults seriously injured by vaccines. Bob has founded and volunteered for many not-for-profit organizations, including serving as Chair and Board Member of Lifespire, a 65 year-old NYC organization that serves 5,000 disabled people every day. Bob has spoken before many community groups on the subjects of vaccine injury, vaccine exemptions, and the rights of people with disabilities.