Like and follow us on Facebook, Twitter, and Pinterest
This article is copyrighted by Fearless Parent™ 2016
by Louise Kuo Habakus
Oh yeah, there are rumblings. Bone shaking and deafening. Are the gods bowling or is the suppression of truth no longer able to be neatly contained in an etherized, sound bite world?
Who needs Batman v Superman? The Dawn of Justice is right here, right now. It's Mainstream Media v The Internet and it's epic.
Greater than the tread of mighty armies is…
An idea whose time has come. #VictorHugoRocks
The idea is that it's possible to be a smart, sane, and sentient human being who raises questions about vaccine safety, vaccine policy, and the idea that vaccination should be a choice.
Mainstream media is exploding with vitriolic footage about a film that they tell us should never be seen, made by a man whose name should not be uttered, with a message that should not be delivered. But irony of all ironies, it is being seen, uttered, and delivered. Repeatedly. Loudly. Bizarrely. Everywhere. Making millions of people damn curious about the fuss and the smack down.
What's that film called again?
VAXXED.
Who made it?
Dr. Andrew Wakefield.
What's he saying?
Government is betraying our trust.
Again?
Hmmm, where can I see it?
Hmmm, maybe I'll hold off on these shots until I can do some research.
I rarely pay attention to mainstream press anymore because they get it wrong so often that it's worse than a waste of time. But this… this is worth watching.
Voices of reason
There are many people speaking out and more every day. You won't know most of them because they work behind the scenes, quietly meeting with people one on one, patiently sharing information and holding space for progress and healing.
Here are a few recent heroes who have stepped up, willing to take on the wrath of Khan and the press, starting with three guys named Bob:
BOB WRIGHT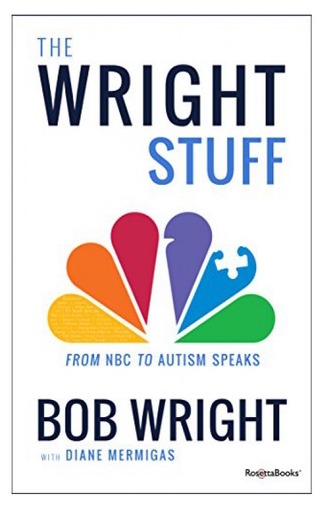 Corporate titan (ex-NBC Universal chief — sweet!) and autism grandfather Bob Wright just disclosed that both the Bush and Obama administrations flat out killed proposals to address vaccine safety…
yes, both Republicans and Democrats…
yes, they were afraid of the press (and we all know who's pulling those strings)…
yes, we're talking about our political leaders who have a mandate to represent and protect and serve…
yes, despite meteoric, mysterious, and catastrophic rates of pediatric chronic, autoimmune, and neurodevelopmental disorders (read this and this).
He told Matt Lauer that the CDC does not conduct legitimate vaccine safety science.
Bob Wright has a new book — The Wright Stuff: From NBC to Autism Speaks — so it's book tour time. With a bit of luck, we'll be hearing a lot from him… because he has a lot more to say.
BOB DENIRO

An iconic and much admired and respected Oscar-winning Hollywood actor — who also happens to be a concerned citizen and loving father of a child with autism — is using his celebrity and film festival platform to help promote a long overdue and desperately needed conversation about vaccine safety and transparency.
All you have to do is watch this Fox 5 video clip with Tribeca Film Festival founders Robert DeNiro and Jane Rosenthal to understand DeNiro's position. I dare you to watch this and not have your heart flying out to him:
BD: "I didn't want to make it a whole controversy with the film festival… so let me just pull it, and we'll deal with it later… it did get a lot of attention…"
Fox: "Do you hope to bring it [back]…?"
BD: "I'm working it out now."
Fox: "And obviously it hits close to home."
BD: "Sure, so… with me, my own experience with one of my kids."
Fox: "So I got the impression yesterday that Robert DeNiro wants this vaccine documentary out there. It will not be a part of the Tribeca Film Festival but he thinks it's important enough for people to make their own decisions and to get the VAXXED documentary out there."
UPDATE: Even better, watch DeNiro's interview on the 4/15/16 Today Show. He makes a plea to find the truth:
BD: I think the movie is something people should see… there's a lot of information happening with the CDC, the pharmaceutical companies, there are a lot of things that are not said… I as a parent of a child with autism, I'm concerned. I want to know the truth. Some people can't get a certain type of shot, like penicillin, and they can die from it… there's no reason [to shut this down]. If you're scientists, let's see, let's hear. Everybody doesn't seem to want to hear much about it. It's shut down. And you guys are the ones who should be investigating. Do the investigating… How vaccines are dangerous to certain people who are more susceptible. And nobody seems to want to address that. Or they say they've addressed it and it's a closed issue. But it doesn't seem to be because there are many people who will come out and say that, no, I saw my kid change overnight. I saw what happened… There's more to this than meets the eye. Believe me… There's something there that people aren't addressing. And for me to get so upset here, today, on the Today Show, with you guys means that something's there. That's all I wanted to do was for the movie to be seen, for people to make their own judgment…
TS: It's scientific consensus that there's no link, Robert. Do you believe that?
BD: I believe it's much more complicated than that. There is a link… I've seen so much reaction about, let's just find out the truth… there are some people who cannot take a vaccine and they have to be found out and warned, you can't just give a kid a bunch of shots and then something happens…
TS: The worry is that people who those words and wonder about it will not have their children vaccinated…
BD: There's a kind of hysteria, a knee jerk reaction… let's see. Everyone should have a choice to take vaccines. Some places it's becoming mandatory. It does benefit the big pharmaceutical companies, funnily enough.
BOBBY KENNEDY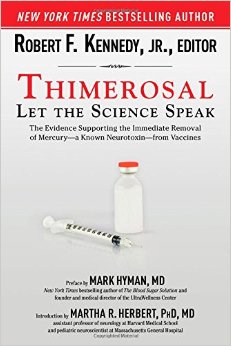 Nothing but crickets among Democrats on this issue… nearly all except RFK Jr who is unwilling to be silenced, and reminding us very much of his father's courage. Bobby is writing, networking, and traveling the country, speaking to state legislatures, activists, celebrities, philanthropists, and concerned parents.
I spent a full day with Bobby one year ago. We met with New Jersey state legislators and held a press conference on this very issue (Facebook post). His message is clear. He has serious concerns about removing from parents their ultimate right to choose whether to vaccinate their children and transferring that authority to state and federal officials. His concerns are particularly acute at this time because of the troubling ethical breaches that have embroiled our Centers for Disease Control (CDC) in scandal and presented, yep, vaccine safety concerns.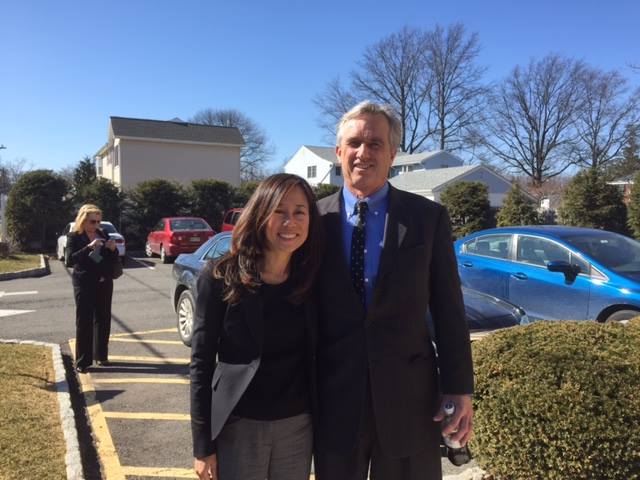 Here's a recent article Bobby penned for EcoWatch: Is the Autism Epidemic Real?
REPUBLICANS
The leading Republican candidate for president, Donald Trump, continues to say that the way we vaccinate — pumping babies with an unprecedented number of repeated, multiple doses in syringes big enough for a horse — is making them sick and autistic.
New Jersey governor Chris Christie supports parents' rights to make vaccination decisions for their children. He told me himself. He said if parents believe vaccines caused their child's autism, they should not be forced to vaccinate their other children. We met in August 2009 and again in January 2011 when he called on me during a Town Hall meeting (and I gave him a copy of my book). The media unleashed its fury on him last year on this issue and I spent three solid days fielding calls from dozens of reporters. The Washington Post was one of the only outlets to get it right.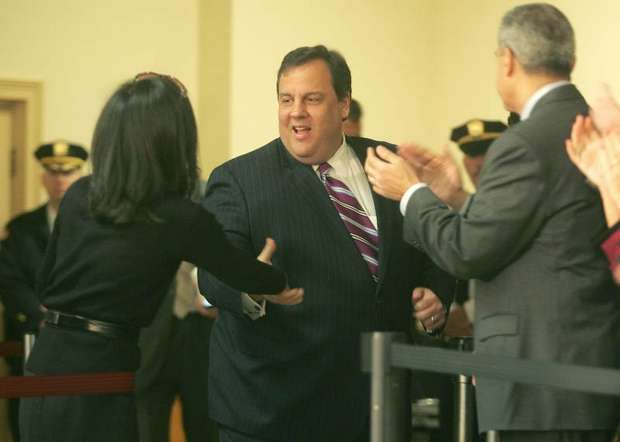 Medical doctors Ben Carson and Rand Paul expressed the need for caution (Carson said people should have the right to spread them out) and choice (Paul said he didn't trust the recommended schedule before he caved and got vaccinated on national TV). They were both slammed by the media.
It's your turn to be a superhero
I can understand if you're thinking, "Superman's got this, I can stand down." But you'd be wrong. Here are some thoughts:
#1: Speak up! Now's not the time to keep quiet. If you have a platform, use it! Bring up the topic at a cocktail party, PTA meeting, Bible study, mom's group meeting. Share a story, express concern, recommend a book, say that you're watching this closely.
#2: Who do you know? Start scrolling through your list of contacts and think about who could be in a position to be helpful on this issue. Your college roommate? A client's spouse? Soulcycle buddy? Consider multiple degrees of separation, too.
#3: Meet with your representatives and let them know this is on your mind. Republicans are receptive to ideas about parental rights, religious freedom, and Constitutional integrity. I've personally had no success with Democrats but I need to keep trying. I imagine they might tune into messages about corporate over-reaching and the need to protect society's most vulnerable, including children, women, and the elderly, who receive the lion's share of vaccines.
#4: Organize an event, with an eye towards community-building. Screen a movie and invite some friends over. Set up a panel discussion. Create a forum that allows people to ask questions.
#5: Collaborate judiciously. Just because someone says all the right things doesn't mean he's on our side. I've learned this the hard way. I spent four hours with a researcher and author who claimed to be writing a book about the varied ways that parent-led advocacy is changing the world. He lied. If you want to know if someone is legit, ask a parent activist.
#6: Donate wisely. Definitely support people doing this work. But evaluate legal action with an especially critical eye. I'm not a lawyer and I rely upon those with litigation experience and deep knowledge about the vaccine issue to provide advice. Don't give your money away before understanding who and what you're supporting. A poorly conceived and/or executed lawsuit can be a lot worse than a waste of money. It can set us back decades.
#7: Look in the mirror. There's your hero. Read these quotes. Go.
"The strength of this country isn't in buildings of brick and steel. It's in the hearts of those who have sworn to fight for its freedom…" – Captain America
"You're much stronger than you think you are. Trust me." – Superman"
"The door is more open than it appears. It separates who you are from who you can be. You do not have to walk through it. You can run." – Franklin Richards (of the Fantastic Four)
"The future is worth it. All the pain. All the tears. The future is worth the fight." – Martian Manhunter
"You're going to make a difference. A lot of times it won't be huge, it won't be visible even. But it will matter just the same." – Commissioner James Gordon
Louise Kuo Habakus is the founding director of Fearless Parent™, lead host and producer of Fearless Parent Radio™, and mom of two. She is a published author and runs the non-profits Center for Personal Rights and Health Freedom Action. Louise was a Bain consultant and a C-level executive in the financial services industry. She holds two degrees from Stanford University. She is an advisory board member of GreenMedInfo and The Documenting Hope Project.